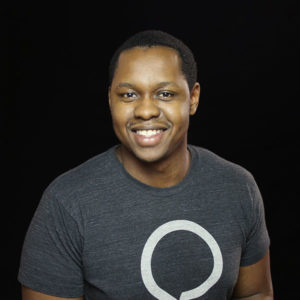 Bryan Dieudonne
Data Analyst
---
As a Florida native, Bryan arrived to Troy, NY to play collegiate football at Rensselaer Polytechnic Institute. While starting on the kickoff team as a freshmen, he developed an interest in entrepreneurship and data science. Prior to working at Outspoken Media, he worked as a Technology Innovation Intern within the Enterprise Technology Group at New York Life Insurance Company (now called New York Life Technology).
After his brief stint at the insurance company, he lead marketing efforts at two early stage ventures he co-founded.  For one venture, he accepted an invitation to join the National Science Foundation Regional Innovation Corps for creating a corporate events marketplace assisting corporate event planners in booking unique experiences for their social events.
Now, he brings his knack for generating new ideas and navigating the unknown to Outspoken Media by conducting market research & analyzing large datasets as a data analyst.
"I love data science. I dreamed up becoming some kind of scientist one day but was never keen on life sciences for the sake of it. Business & economics motivates me to think critically. I'm now  happy than ever that data science has risen to new heights in popularity. There's a vast pool of business use cases waiting to be discovered for the application of machine learning and advanced analytics. Now I can proudly say that I want to be a scientist, formally as a data scientist."
Notable Achievements:
RPI Business Model Competition, 1st place, 2017
RPI Change the World Challenge, Finalist, 2016
NY Excel – Climate Change Scholar, 2015
You never work a day in your life if you do what you love.
On any given day at Outspoken Media, you'll either see Bryan's radiate smile at his or a boisterous laugh at his desk. Born from Haitian descent, he's thankful everyday for the opportunity to work with Rhea & the Outspoken Media team. "It's definitely a culture fit for me," he proudly states as he gulps down his Soylent for lunch. "Rhea is an inspirational for me as an entrepreneur, minority, and Floridian", he continues.
Bryan's passion lies in the midst of keyword research and data analysis. "Unraveling hidden opportunities for clients within is quite exhilarating. What peaks my interest is modeling the effects of potential recommendations we make for clients." As a graduate candidate of the M.S. in Business Analytics at Rensselaer Polytechnic Institute, he's eager to introduce machine learning and data mining to Outspoken Media.
He's also known around the office to ask eccentric questions.. He tends to think in the big picture to find deep connections and patterns. For fun, he enjoys macroeconomic analysis and derivatives trading.
---
Meet the rest of the team