Amy Marshall
Account Manager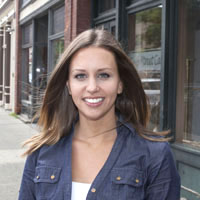 Amy Marshall is an Account Manager at Outspoken Media with more than four years SEO experience. She spent her college days selling most of her possessions on eBay (as her sorority sisters can attest to) and it was then she realized she was destined to be in the dynamic field of Internet Marketing.
While in school she interned for the Saratoga County Chamber of Commerce performing basic website maintenance and advertising. Upon graduation from SUNY Cortland, with a B.A in Advertising/Public Relations and a minor in Management, she landed her first SEO position at We Build Pages. She stayed with the company for four years through its transition to Internet Marketing Ninjas and excelled as a top link builder. She was responsible for training new employees and gained experience in PPC as well as content strategy and development.
At Outspoken Media you'll find Amy involved in internal project management aimed at strengthening link development processes and procedures. She performs account management for a variety of competitive clients along with analytics and reporting, online reputation management, social media marketing, competitive analysis, content creation and strategy, and last but certainly not least, implementation of organic link development services and strategies.
Outside of the office you'll find Amy spending time with her Mastiff, Ronnie, or at the local CrossFit gym. In her downtime, she enjoys just about any outdoor activity and is a fitness and nutrition enthusiast. She's a believer in ancestral/primal nutrition and functional fitness–but not just for people. You'll find her blogging for her site Primal Pooch which is a primal living blog for man's best friend.