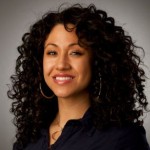 Joining us today on the blog is the amazing Brittan Bright. With a name like that, it's impossible not to be a star! She is a dynamic SEO Account Director who has worked with enormous brands throughout her career. Those experiences combined with her passion for taking care of her clients and killer fashion sense, which she'll explain below, are we think everyone needs to hear more from our favorite agency voice.
I will never forget when I figured out how to sell for the first time. I was an English major fresh out of my tiny liberal arts college, in a tiny town in rural Indiana. The only job I could find at that time was as a Sales Associate at the new Saks 5th Avenue store opening up in Indianapolis. So I translated my reading skills into people reading skills, moved to the city and accidentally started a career in sales, selling fancy stuff to be exact.
As I reflect back to the humble beginnings of my career, it's striking to me how many of the skills that come naturally to me now were learned and honed in those early days. Being in the SEO industry, it's safe to say I am still in the business of selling fancy stuff. My particular method for selling "fancy" or complex concepts and services, such as those offered in digital marketing, has always been and always will be to keep it simple.
Sometimes SEO can seem so complicated that we forget that it's a professional business service. This means that there are simple truths that apply to how to service our clients, and I'd love to share my favorite four lessons with you today.