It's been a few weeks since part 1 here of the blog inspiration series, but not for a lack of inspiration. We're slammed and it's a good problem to have, but I promised you awesome ideas, so let's get back to it!
To recap ideas 1-3:
Now on to the rest!
4. Write in Bursts
I've already admitted that I'm an extrovert and you probably assume this means I'm a social butterfly. I am when I'm in a small, intimate group, but online–communication is super hard! Extroverts recognize that what we say is often fleeting, because we're thinking through our problems aloud. By contrast, an introvert knows exactly what they want to say and it's why I believe introverts thrive in social media and on blogs. They're thoughtful and well-spoken whereas I waffle and question how you're going to interpret each word. It scares me that someone might not understand the message I'm trying to convey. So I write and I rewrite until I have seven pages that could equal six blog posts, but I can't commit to any of them. Holy productivity freeze Batman!
You know what helps? Write in bursts.
Get your idea down and walk away. Come back and create your outline then walk away. Finish that bullet and walk away. Finish the first draft and walk away. You get the picture.
Do this at each phase of the blogging process and you will get through it. Trust me. It took three weeks, but this post finally came together through small, deadline-driven sprints. This is so important if you're an extrovert, because there's a very real chance that you won't like (or even agree with) your first draft. Brainstorm, outline, draft, completion. Write in bursts and you'll feel far more inspired to finally write for that blog!
5. Start Offline
If you start typing online, you're going to have distractions–IMs, Facebook messages, Google+ notifications, email alerts, etc. Disconnect. Your brain will thank you. Here's what the first draft of this post looked like: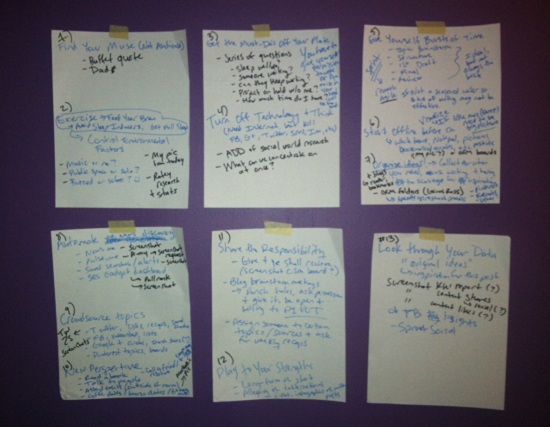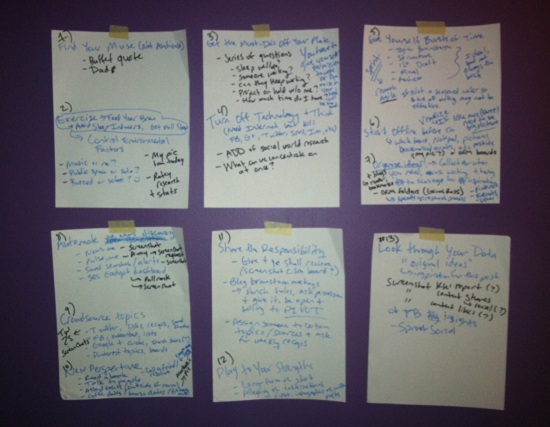 It's messy and yet super productive. I'm a visual learner and I need the full picture in front of me, so it helped to visualize how the pieces fit together. What's your creative process like? Do you have meticulously perfect handwriting in a Moleskine notebook? Do you whiteboard your ideas or use flashcards? Whatever your process, do it without interruption: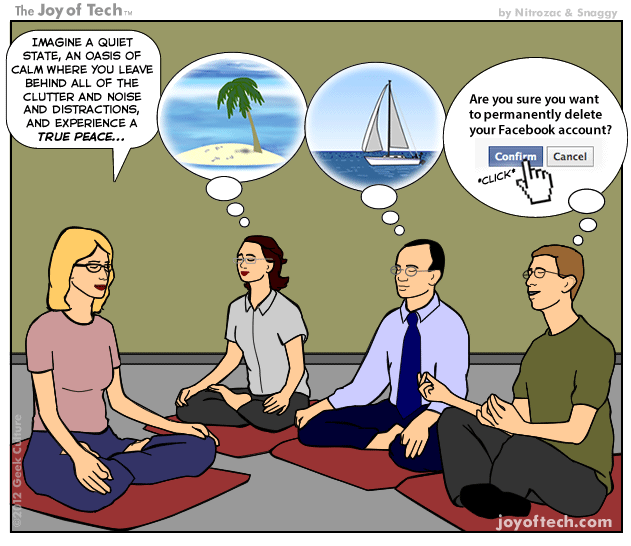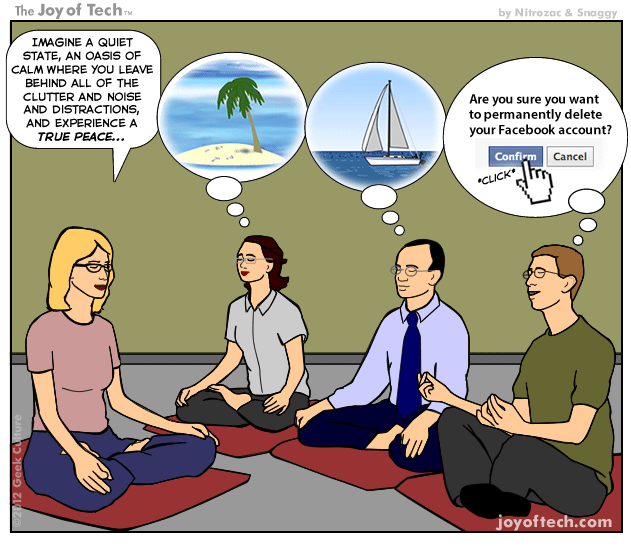 6. Collect Ideas
Create a database of ideas. This can be cloud-hosted on something like Pinterest or Evernote, saved on your desktop, saved in a notepad on your phone, or a physical folder of ideas.
Wherever you set it up, store your ideas by topic. You'll start to see the trends emerge. What do you love writing about? Maybe there's a bigger idea and analysis forming from the things that inspire you. Maybe it's just going to be inspiration to see everything in one place and know that you are awesome, because you came up with those! Most important, when you're struggling for a topic, you have a place to turn to versus trying to rack your brain the day a post is due.
Here are two useful, but lesser known sites that can make it simple and fun to organize your blog ideas for later.
Springpad
Use Springpad as an idea repository. It's like Pinterest, but with sharing capabilities, which makes it ten times cooler in my world: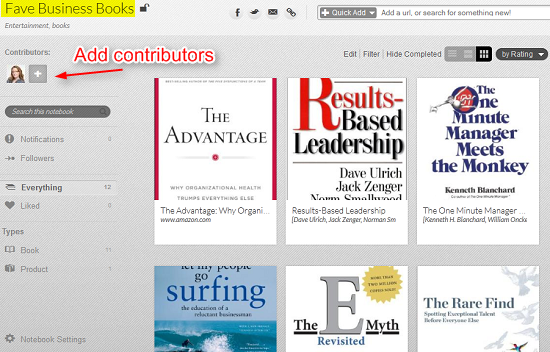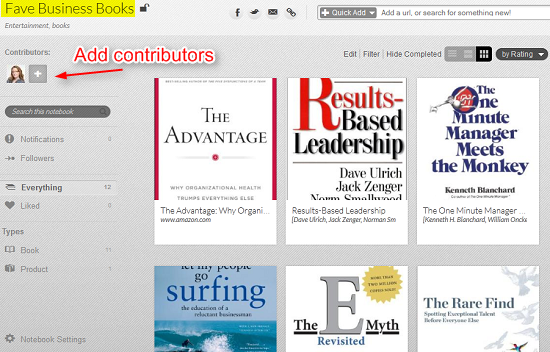 Instapaper
Use Instapaper to store and categorize articles/posts for future reading: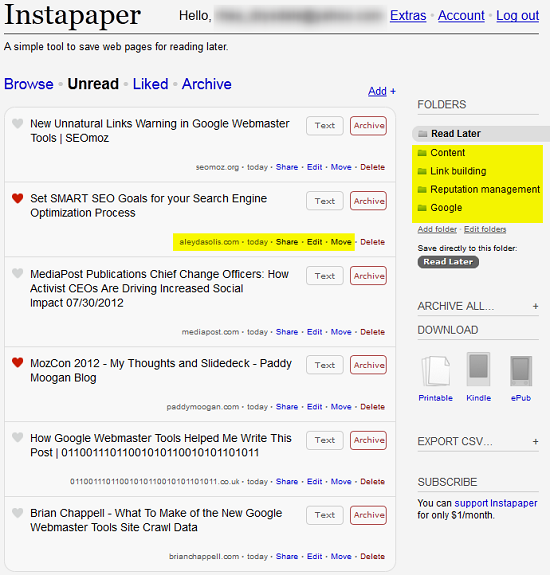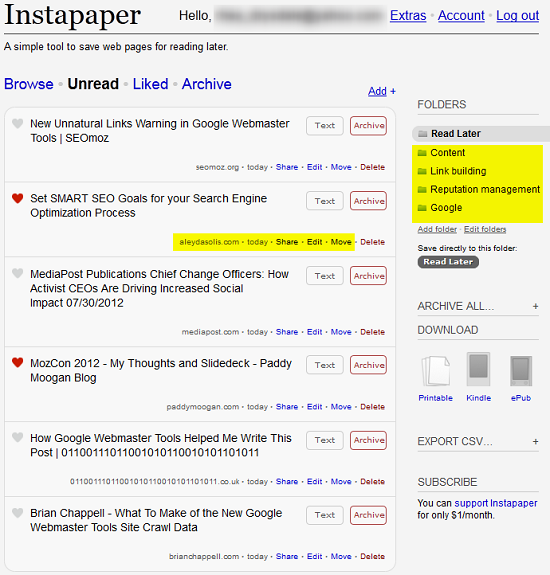 TIP: Get news delivered to your door!
If you hate forgetting to refresh apps before you hop on the subway or take off for a cross country flight (you know, the most convenient times to actually think about blogging!) then take note–Instapaper and News.me (mentioned later) both offer geofencing. This means that once you add specific locations like "home" and "work," whenever you leave those areas, the app will automatically refresh. Now your latest news is saved for future reading in case you drop out of service. Yeah, that's cool.
Other apps worth taking a look at: Pocket, Diigo, and Pinboard ("The introvert's Pinterest").
7. Automate News Discovery
You know why it's really difficult to write a blog post?
Because we have nothing new to write about!
It's time to fix that. Get off your butt and read the news. Those who blog the most typically consume a large amount of news and content from other bloggers. Why? They get that if they want something to say, they have to know what's going on in their industry.
"But Rhea, I don't have time to read the news everyday!"
I get it! I feel the same way. So, let's be smart about this. Automate news discovery and it will be much easier to consume the news that is relevant to you. It's easy enough to set up Google Alerts, but those are also a little buggy and cumbersome. There's also RSS, but it's dying. Instead, check out the following:
Twitter Summary Emails
Recently, Twitter released summary emails. These include popular tweets from users, as well as, popular links shared by your network: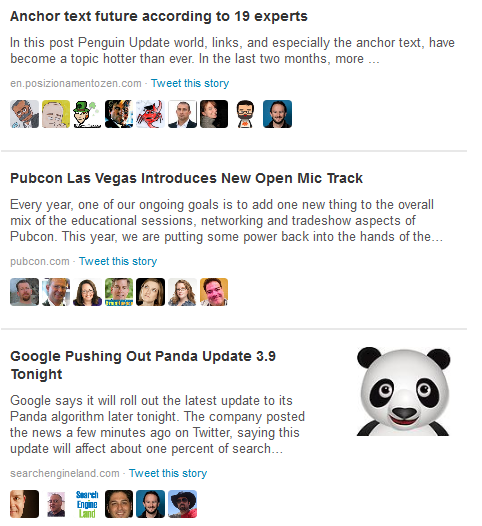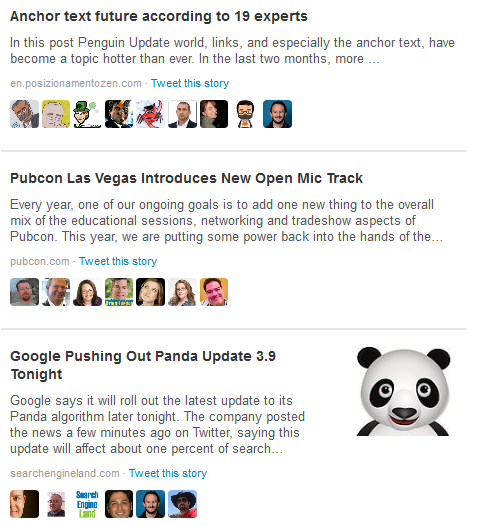 News.me
If you have an iPhone, News.me is my favorite personalized social news app. There are some great features within the app and I get a daily email summary that looks like this: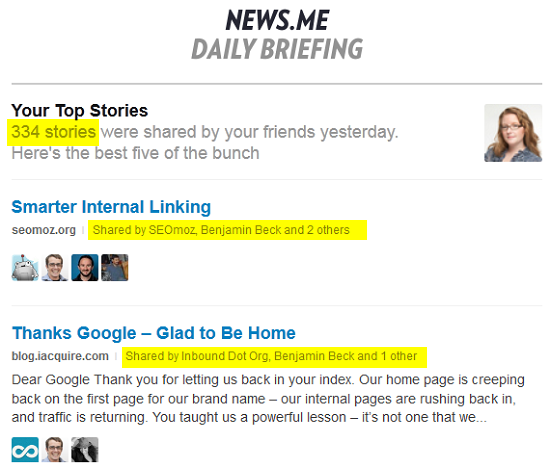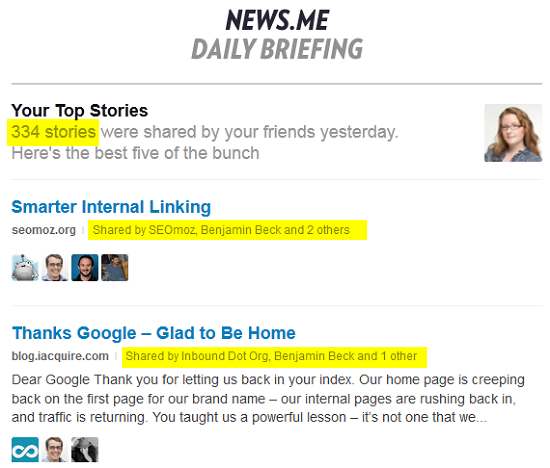 SEO Gadget's Content Strategy Generator
This tool has been mentioned before specifically for generating content ideas. Use the SEO Gadget tool for news discovery as well: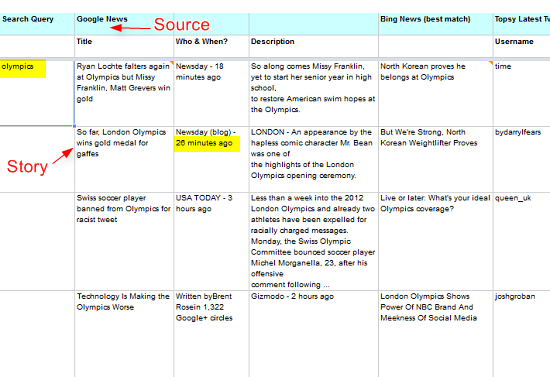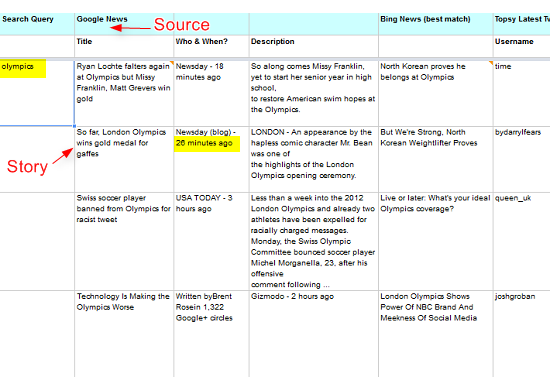 Customize News Apps
Create alerts through the individual news apps for industry-specific topics like "Google:"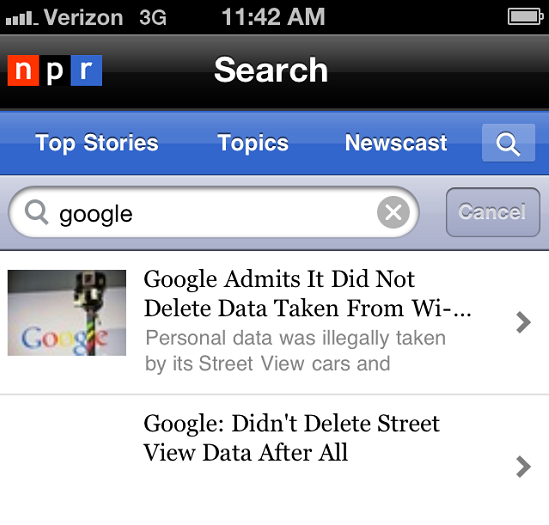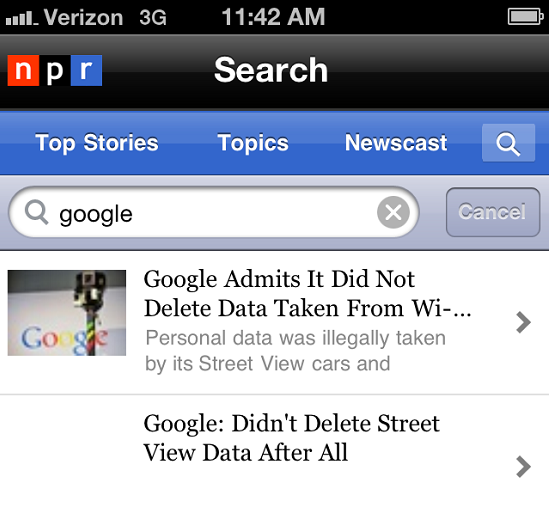 Wikipedia
Did you know that Wikipedia has a daily news summary? Yeah, they do. It's a super short snapshot of everything major that happened in the world on that day (turn your CNN alerts off: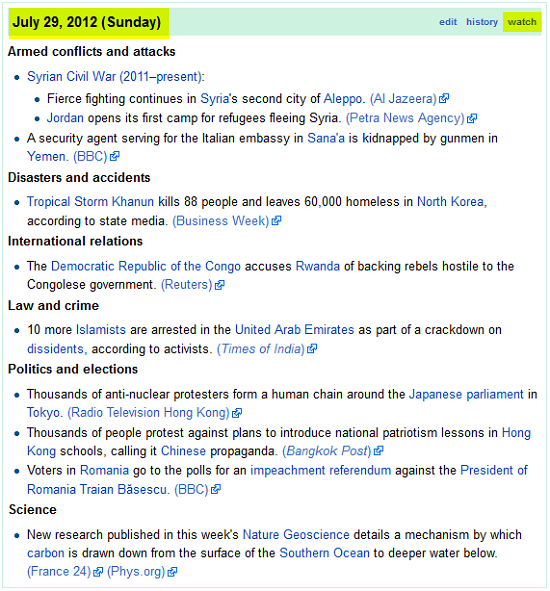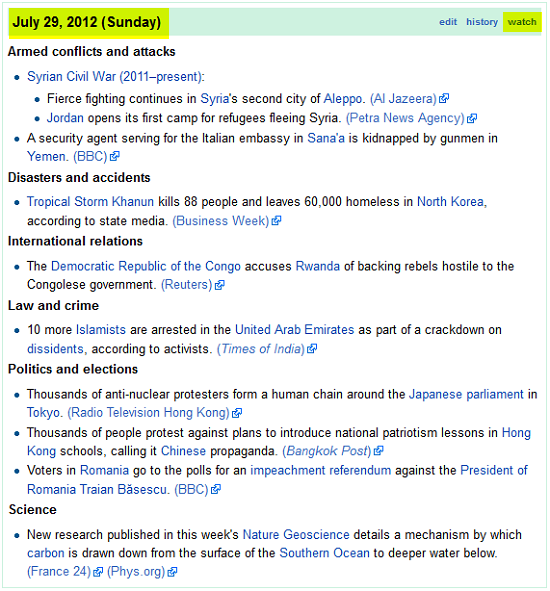 8. Crowdsource Topics
In the early creation of this post, I asked Twitter to tell me how they get their news. They had some fantastic suggestions and I know that when I really need help, my tweeple are there for me whether it's fashion advice or filtering ISAPI rewrites. Hat tip to Chris Winfield for really pioneering this in the early days of SEOs on Twitter:
@Rhea Relying on pulse.me more, but still use RSS reader and Twitter.

— Amy Mengel (@amymengel) July 4, 2012
@Rhea Blogs.

— Angelos Tzelepis (@AngelosTzelepis) July 4, 2012
@Rhea Twitter and NY Times app for news

— Matthew T. Grant (@MattTGrant) July 4, 2012
@Rhea G+ now =) twitter is google integrated.. =)

— ♫dj ʎǝlsıɐd ɐqǝoɯɐ♫ (@djpaisley) July 4, 2012
@Rhea It was Storify, which I miss dearly. Now I sort peeps into Twitter lists, and most recently started using http://t.co/KWBhTBgX

— Lauren Hall-Stigerts (@hallstigerts) July 4, 2012
@Rhea – I have a reader but pretty much get everything from Twitter.

— Casie Gillette (@Casieg) July 4, 2012
@Rhea twitter. It's my new best friend.

— Mackenzie Fogelson (@mackfogelson) July 4, 2012
9. Gain a New Perspective
One of the biggest challenges to blog inspiration is simply feeling inspired enough to write. We're people–HUMAN BEINGS! Get out and live your life and you will find inspiration. My most inspirational moments don't come from sitting on my ball chair staring at a computer screen. They come from living and hearing stories from others.
Watch a TED talk:
Read an amazing book: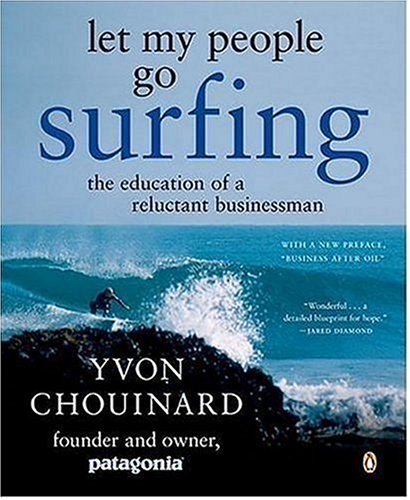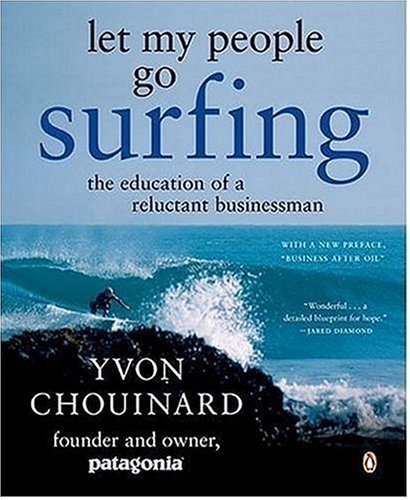 Head to your local cafe with a fresh Moleskine notebook and your thoughts: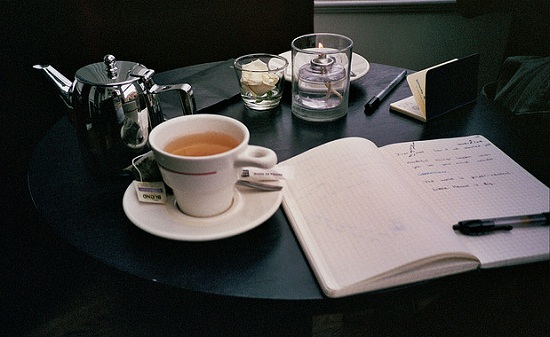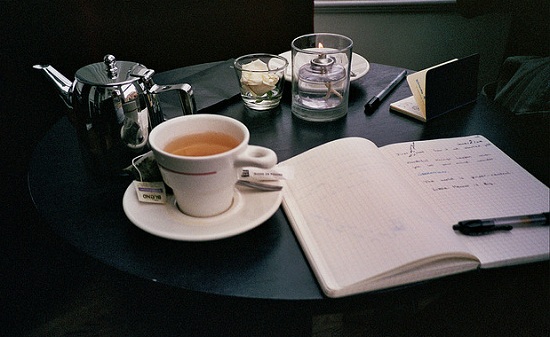 Jump into someone else's mind (like Wil Reynold's):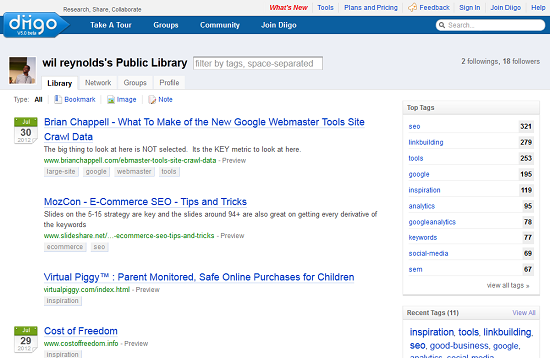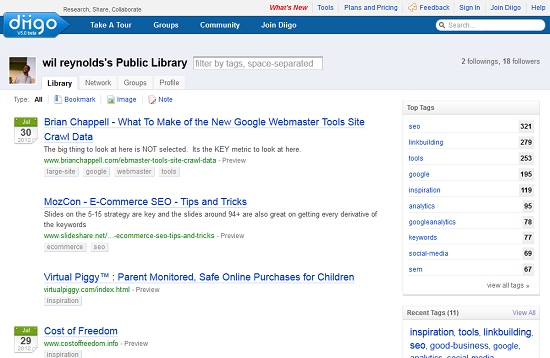 There are three more blog inspiration tips, but with everything mentioned above, I want you to start playing with these first. Seriously, do just one of these and let me know how it goes. I'll release the final tips (and they're good!) when I feel like you're ready for them. ;)