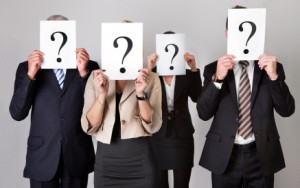 As you all know, Outspoken Media is going through a rebranding process. As we evolve and our messaging changes to fit our new culture and brand focus, it's inevitable that our audience is going to shift. In fact, it already has.
But, rebranding is a scary process when it comes to nurturing and building a community. Ideally, we want to retain our loyal readers and supporters throughout our evolution, while at the same time attracting new community members who align with our values and goals. We also want to be able to track our evolution, and approach the act of growing our community in a natural, organic way.
But, how do we do this? After all, this is all new to us too. Here's how we tackled the task…
Our Current Peeps
In order to measure the evolution of our community, we needed to create a snapshot of the community we currently have. To do this, we enlisted the help of some cool tools.
Mentionmapp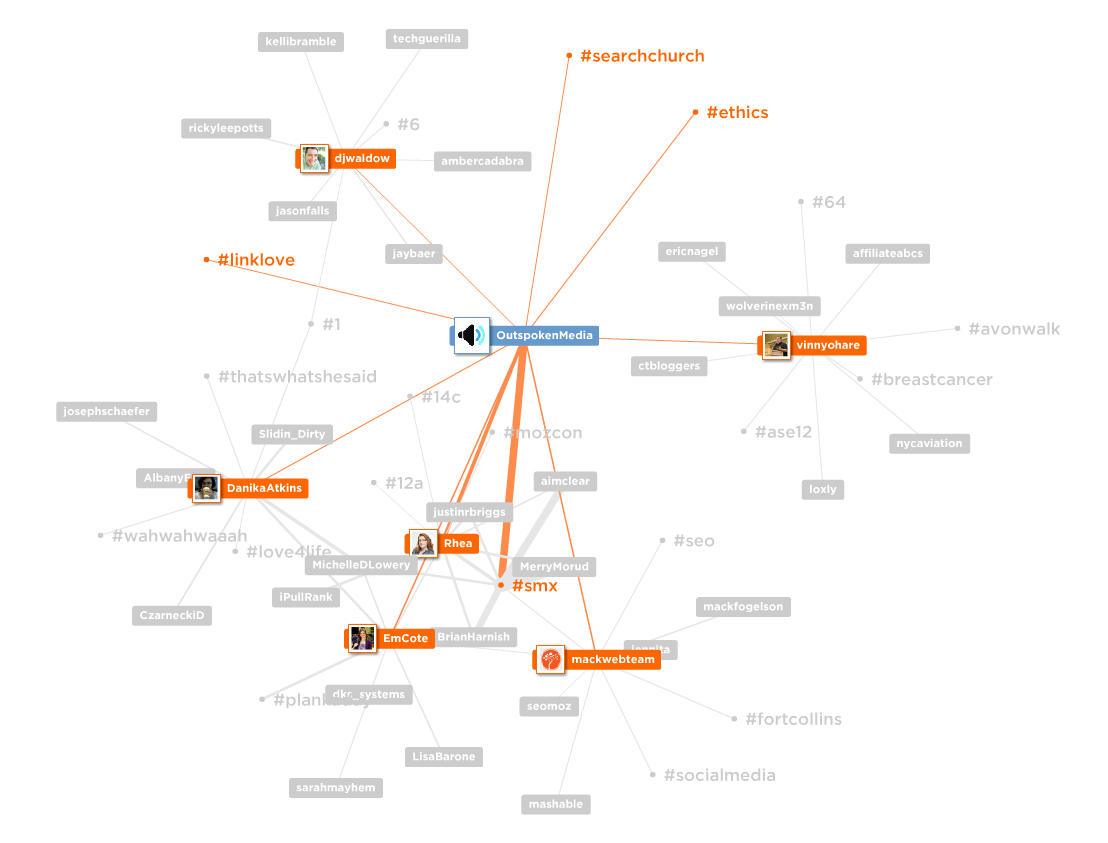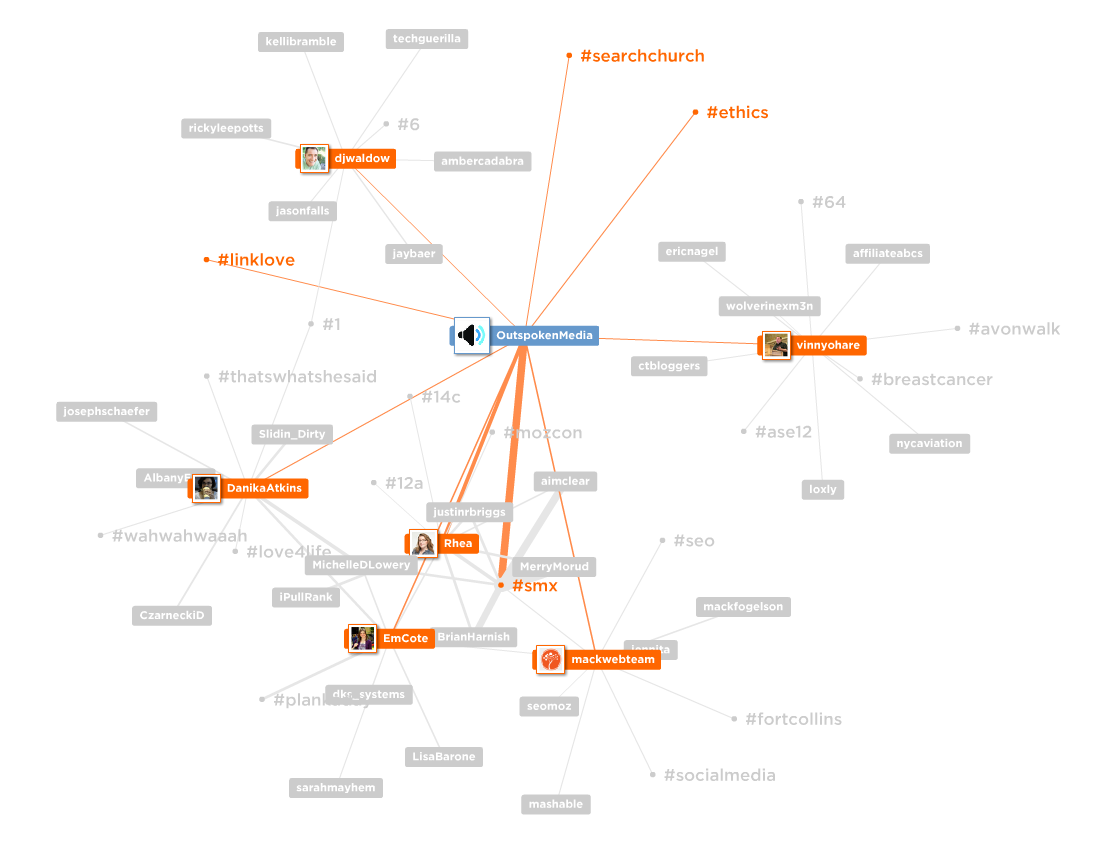 I am sure many of you are familiar with this fun little tool by now, especially since we've mentioned it before. But it's worth reiterating how helpful this tool can be, especially when trying to visualize an entire community and how everyone is interconnected. Since I am fairly new to the SEO community as a whole, as well as our unique group of faithful, online friends, Rhea took some time to outline different people (literally) in color-coded boxes to illustrate who had been strong supporters of our brand throughout history. It helped me to easily recognize names and faces, and to see who their important connections are, giving me a list of potential contacts whom I should follow and engage with on a more personal level.
After getting some first-hand experience with this, I feel this would be a great method for organizations to train incoming social media managers on their unique professional landscape: top allies, supporters, and competitors.
Top Commentators Widget
In addition to evaluating our social mention map, we also used the Top Commentators widget to aggregate a list of the people who comment most often on our blog. The list below tracks our top commenters from YTD:

We found that, naturally, different social media accounts attract different subsets of our community. Therefore, it was important to separate those who are more active with our Twitter account from those who are more active on our blog. As you can see, there is a very different group of people in our blog circle!
Previous Survey Data
A little over a year ago, we ran a survey on our blog and asked a lot of questions of our faithful community. While we recognize that our community has changed quite a bit since then, we still found it very helpful to see the visual breakdown that described our visitors and the content they craved.
We used a Google Docs form to run the survey and compile the data for us in these fun and easy-to-read formats:
How Respondents Categorized Themselves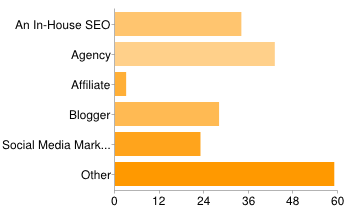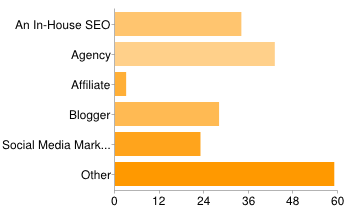 Desired Content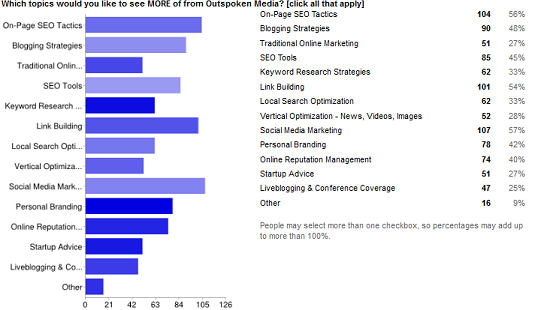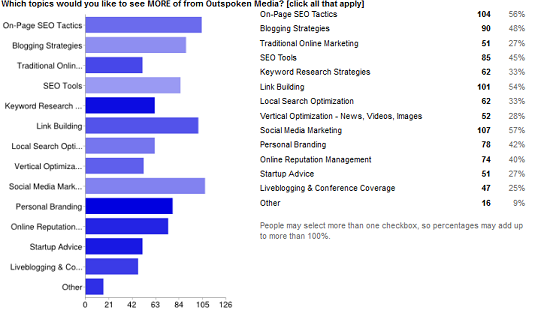 As you can see, we have an almost even mix of SEOs in both the agency and in-house arenas. Since we recognize that each area presents its own problems, we can tailor content to help meet the needs of both agency and in-house SEOs.
From Outspoken Media to Outspoken Media 2.0
After getting a good handle on where we currently are community-wise, we then had to define where we'd like to go. We had already done some major heavy lifting on this topic through the organizational development process. However, to help drive a content strategy, we all sat down as a team and discussed what it meant to be "Outspoken." For example:
What are our values?
What topics are we most passionate about?
Why do people like us as a company?
What makes us different/unique/specialized?
We also dreamed about the future – three, four, and five years from now:
Who do we want to be as a company?
What kind of work do we want to be doing?
What kinds of clients do we want to be working with?
How can we demonstrate our company values through our content?
From there, we began to create personas for our target audience. We described the types of people we want to reach through our content, and in the end came up with three "profiles" that helped to typify our ideal community members. In these persona profiles, we worked to define:
Who are these people professionally?
How or why did they come to our blog?
What are their professional goals?
What types of content can we produce to help them reach their goals?
By sitting down and discussing all of this as a group, we helped to define our voice, our future audience, and the types of content we are going to create. Those three parameters are enough to drive the overall feel and direction of our content strategy moving forward.
Getting From Point A to Point B: Just Do It
In order to implement our new content strategy, we have started having regular, company-wide content meetings. During the process we talk about the hot topics the industry is facing, as well as the issues we are dealing with internally. Together, we brainstorm topic ideas, then work together to tease out the high-value, actionable items within each topic, designing quick outlines of all upcoming posts. We also talk about how we can integrate all of our social media channels – our blog, Twitter, Facebook and Google+ – to support engagement on each topic.
From there, we schedule both "draft" and "live" dates in our shared editorial Google calendar for all blog posts. It's a great way for everyone on the team to stay in touch with the content that is going to be published that day. We also believe in our team members having their own unique voices, and ownership over their content, so when something they wrote goes live, it's also their responsibility to manage comments and interact with the community as questions or e-mails roll in.
Every day is another step in the learning process. I got my first real taste of video editing for our blog when we did our micro-SEO audit back in May. We decided to launch the video on a Friday, and it didn't get the reception we were hoping for. But, we got some great feedback on how to improve it, and we now know to launch future video content like that earlier in the week.
We are constantly testing, tweaking, and experimenting, and we recognize it will take time for us to nail down the best ways/times/places to promote different content. Yes, we have read various studies on when content should be published, but the truth is, we believe our community is unique, and what may work for some may not work for us. So we test and track results.
So what about you? Community managers, I'd love to see you weigh in on this. How do you define your audience? How do you track your results? How do you manage content creation among your team? Tell us in the comments!