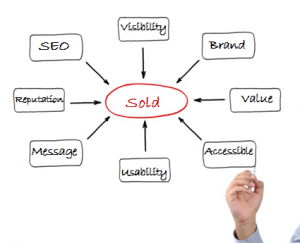 Real estate can be a complicated industry to market online. Having worked as the Marketing Coordinator for a real estate team (where I was also a Licensed Real Estate Salesperson and Realtor), I understand the idiosyncrasies of the field as well as the payoffs. What follows is an SEO guide for real estate agents and professionals, because I know how important it is to make informed marketing decisions and I want to help bridge the gap between agents and SEOs.
According to the National Association of Realtors, 90% of buyers start their real estate search online. SEO is vital to a successful online presence for both brokers and agents because higher rankings can translate into significant sales increases—especially when each transaction is in the $100,000s.
Challenges in Real Estate SEO
In most cases, real estate agents compete against one another, yet they are united as "team members" under a larger brokerage (like Remax or Century21). Individual agents rely on the combination of brand recognition of their parent brokerage, personal branding, and team branding to drive new business. Real estate agents will often target specific locations or regions, and try to differentiate their services based on certain needs or demographics, like first-time home buyers or elite homes.
Real estate brokerages have to manage and promote the individual agents while marketing the entire brand entity. They want their agents to differentiate themselves, be successful, and bring in a lot of business. But the brokerages also need to maintain ownership of a cohesive, united brand. The goals can sometimes be in direct opposition of one another.
As you can see, real estate SEO becomes very complex due to the very nature of the industry. Additionally, real estate websites can be large and complex due to the high level of functionality and searchability that is needed to appeal to users. This is especially the case with larger brokerage sites because they usually highlight multiple areas and regions, and use space on their site to promote all of their individual agents. Websites are further complicated by the fact that many Multiple Listing Service (MLS IDX) solutions are designed without search engine optimization in mind.
To add more challenges, keyword competition in real estate is extremely high as brokerages and their individual agents are all competing for the same targeted keywords (usually "location + real estate" or "location + homes for sale"). In the midst of this high competition, many SEO scammers prey on unsuspecting agents, offering expensive monthly programs that promise high rankings for obscure keywords that won't drive any sales.
Given that real estate SEO can be so difficult, I recommend that brokerages and large real estate teams hire experienced SEO consultants to design and implement a comprehensive SEO strategy. From what I have seen, many firms rely on the expertise of their IT departments for SEO advice. While many IT professionals have a working knowledge of standard SEO techniques, they are not always able to spot key site structure or content issues that will affect rankings.
What to Look for in a Real Estate SEO Strategy
A well-informed real estate SEO strategy should take into account the following:
Local SEO and geo-targeting
Proper URL structure
Site performance and usability
Hyper-local, optimized content creation
Advanced keyword research
Social media
Link building
A solid SEO strategy should also help to answer the following difficult questions:
How do you choose a search engine-friendly MLS IDX solution?
How is Google indexing listing content, and is it optimized?
What content will attract the right clients?
How do agents and brokerages pinpoint which keywords to target?
The following guide is not exhaustive. I will not get into standard techniques for local SEO or link building. Instead, I have outlined tips and techniques that target common problems I see with real estate websites, on both the technical side and the content side.
Technical
Choose the right IDX. Several IDX solutions out there allow you to integrate the MLS with your site, both to make your website more robust and attract buyers. However, many IDX solutions are not developed with SEO in mind. Common problems that I see in many IDX solutions:
The IDX is embedded with an iFrame (which search engines generally can't index)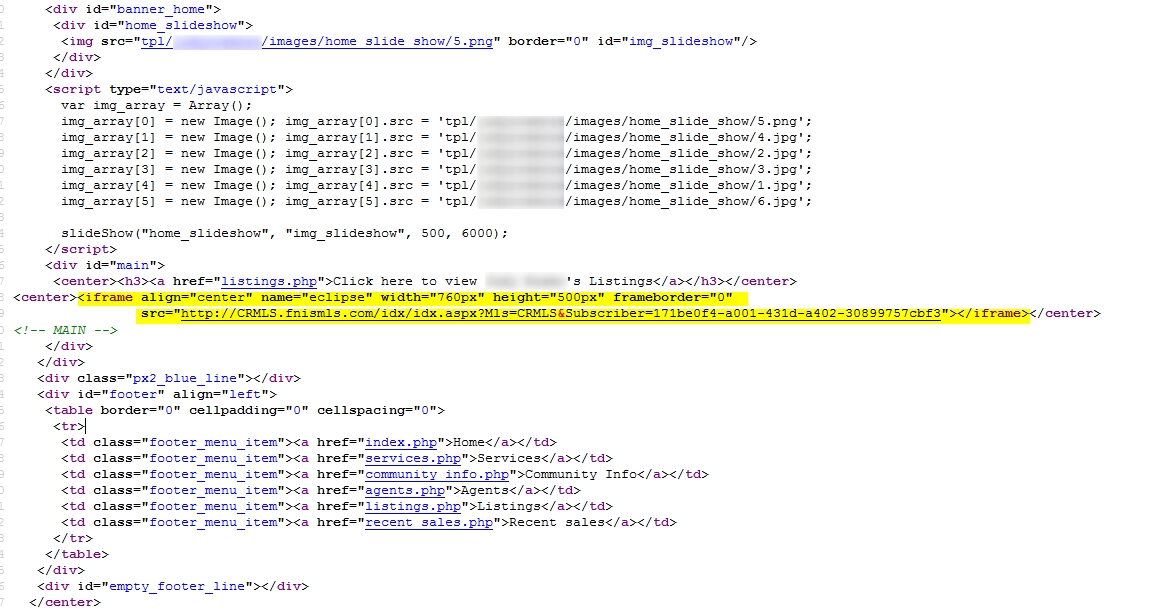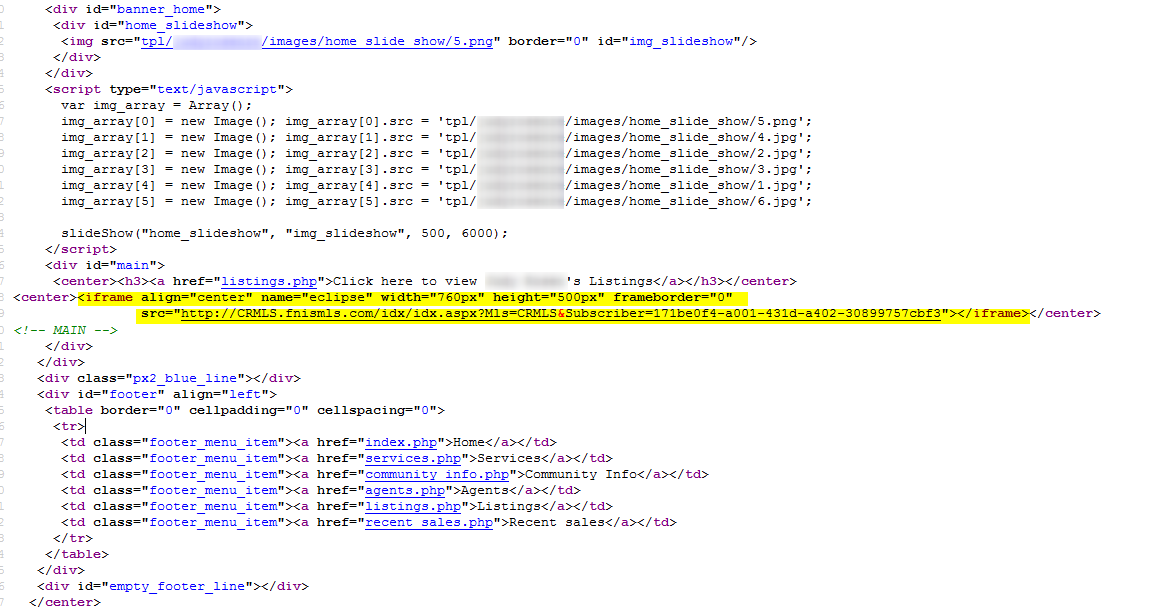 The IDX generates messy URLs that lack any keyword targeting or cohesive structure


The IDX creates thousands of pages of duplicate or junk content in the index through the creation of search pages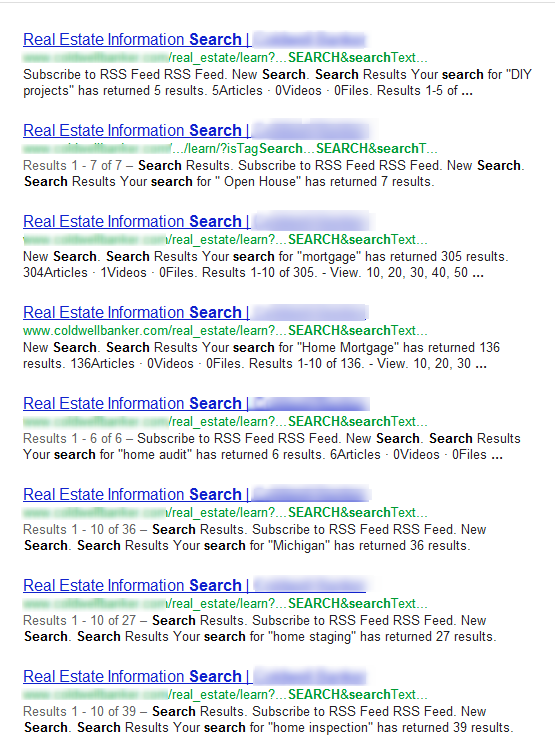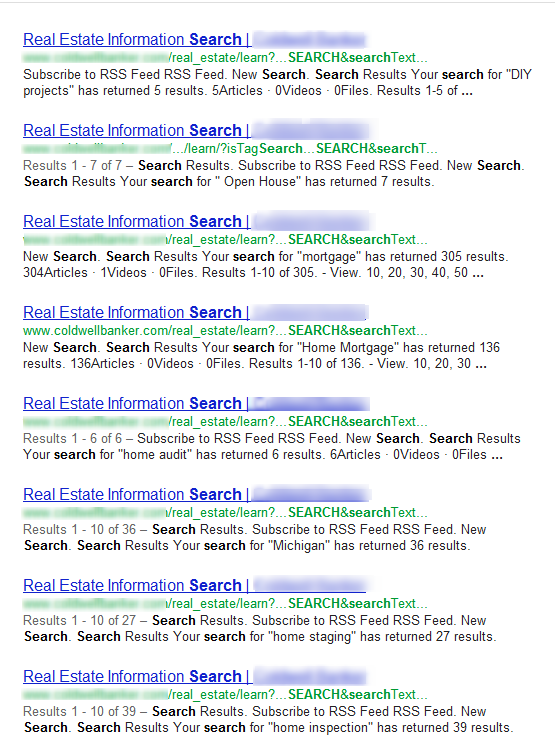 The solution to this is to be very discerning when evaluating your options for IDX providers. Test the solutions yourself, and ask to see other active websites that are currently using that solution. Have customers, neighbors, friends, or family try the IDX themselves, and make sure they enjoy the user experience. Ideally, the IDX should be:
Customizable in terms of both visual branding and URL output
Integrated, so the listing pages your IDX creates on your site can actually be indexed
Fast and responsive. Don't choose an IDX that will drastically slow down your site or provide a poor user experience. High site-load time can increase your bounce rate and affect your rankings.
Prevent dynamically generated search pages from being indexed
Make the URL structure as clean and optimized as possible. In an ideal world, a real estate website's URL structure would look something like this:
Home: http://highconversionsearchterm.com/
Search: http://highconversionsearchterm.com/search/
City category pages: http://highconversionsearchterm.com/city/
Listing pages: http://highconversionsearchterm.com/city/streetname-housenumber/
However, we recognize this is usually not possible. The goal is to get as close to this as you can, without damaging the integrity of the site. Work with your developer or IT team and see what the options are through the IDX and your site's content management system (CMS). If URL structure can't be managed through the CMS platform itself, they may be able to use 301 redirect rules to create more optimized URLs. Having clean URLs that incorporate target keywords can help the search engines better understand the nature of each page.
Avoid excessive use of subdomains. Where directories are treated as part of the main site, subdomains act as their own entity. This means that any backlinks built to the individual subdomains will not be attributed to the main site, splitting overall link value and limiting the ranking power of the main site. Common subdomain situations I see which should be avoided if possible:
CityName.website.com/
AgentName.brokersite.com/
Blog.website.com/
Search.website.com/
Control the content that is indexed. IDX solutions often create new search pages every time someone searches for a home. Sometimes, this can't be controlled through the IDX or the CMS. If not controlled, these pages can end up in the index, bloating the amount of information the search engines are crawling and creating a pool of duplicate content.
Using your robots.txt file, you can target the URL modifier that appears in search pages and keep them from being indexed.
For example, if your search page URLs look like this:
http://www.example.com/property/property-list.asp?VAR_SearchType=openhouse&VAR_MapStatus=LISTMAP&PRM_MLSName=rochesterny
You can block these pages from being indexed by including the following syntax in your robots.txt file:
Noindex: /property/*?VAR_SearchType=*
Content
Do keyword research for long-tail terms. Because competition is so high for the biggest target keywords in the industry, doing your homework and developing a solid long-tail keyword strategy will help your website be more effective. As an individual real estate agent or small firm, the truth is, you may never be able to break into the top ten for "Albany Homes For Sale" because you are competing with large main brokerage sites and other key real estate websites like Homes.com, Zillow, Trulia, and Realtor.com.
However, if you can successfully target some of the longer-tail keywords (which have lower competition) that are still popular locally and have a high conversion rate, you can create a website that brings in a lot of sales.
For some great guides on how to conduct thorough keyword research, check out the following sources:
The Professional's Keyword Research Guide
A Comprehensive Guide to Keyword Research
Where to Kickoff Your Keyword Research

Creating high quality, hyper-local content. After you have performed thorough keyword research and decided on some great keywords, develop content that targets those keywords. Some things to keep in mind:
Try to target each keyword on a single page. For example, if you are targeting both buyers and sellers, create one page for buyers, and another for sellers. This helps search engines better understand the focus of your content.
Be consistent. I know how busy real estate agents are. I was one, and I worked in one of the largest real estate offices in the area. However, consistent content creationkeeps your website fresh and relevant, encouraging the search engines to crawl your site more often while also fostering your community. If you don't have time to write your own content, hire freelance writers to take some of the work off your plate. Some of them may even have a real estate background. I would also suggest looking for someone locally because they will be more familiar with the housing stock and real estate market in your area. Be picky.
Write about things people care about. So many real estate blogs are nothing but posts showing the newest house on the market. Please don't do that – that's what the MLS is for. Instead, put yourself in the mind of potential buyers and sellers. What are they looking for? What questions might they be asking? Some content ideas you might want to write about:

Local events worth going to (with pictures)
New neighborhoods, complexes, or communities being built
Stories of community or neighborhood revival
Programs or home-buying assistance grants available in your area
The beauty of the local architecture (with pictures)
New businesses that might be opening up and bringing new jobs to the area
Tips for staging or increasing curb appeal (As all agents know, HGTV lies!)
Home-related products that might help to make people's lives easier
Be Mindful of the Realtor Code of Ethics. Some friendly reminders, on behalf of Realtor.org in regard to all of your website content:
Standard of Practice 12-8:

"REALTORS® shall use reasonable efforts to ensure that information on their websites is current. When it becomes apparent that information on a REALTOR®'s website is no longer current or accurate, REALTORS® shall promptly take corrective action."
Standard of Practice 12-9:

"Websites of REALTORS® and non-member licensees affiliated with a REALTOR®firm shall disclose the firm's name and that REALTOR®'s or non-member licensee's state(s) of licensure in a reasonable and readily apparent manner. "
Standard of Practice 12-10:

"REALTORS®' obligation to present a true picture in their advertising and representations to the public includes the URLs and domain names they use, and prohibits REALTORS® from:
deceptively using metatags, keywords or other devices/methods to direct, drive, or divert Internet traffic, or to otherwise mislead consumers."
How to Spot SEO Scams
SEO gets a bad reputation due to the host of scams and SEO con artists out there. As mentioned above, real estate is a prime industry for these firms to target because many real estate agents are not well-versed in SEO, but they know they need to drive sales through their website. The unfortunate result is that many agents and firms get burned, and they lose faith in the entire field of SEO.
Below is a list of what I would consider warning flags when it comes to choosing an SEO company. While there are exceptions to these rules, in general, I have found these to be true.
Avoid SEOs that:
promise certain rankings. No SEO worth his/her salt will ever guarantee rankings, because of the ever-changing nature of search engines.
cold call you or e-mail without knowing anything about your business. Here's the truth: Most high-quality SEO firms don't have to look for business. The business comes to them. So, if you have someone cold-calling you on a Tuesday afternoon, be wary.
define keywords for you, without knowing your business. If someone tells you they can get you ranking #1 for "local realty houses to purchase" or something similar, run away. Keywords like that are junk, and you can almost guarantee they won't convert. A good SEO company will do specific keyword research for your firm to meet the needs of your unique audience.
Conclusion
As you can see, real estate SEO can be tricky business. If you want to tackle SEO for yourself or your own team, I suggest doing a lot of research before getting started, and following some of the suggestions outlined above. If you don't feel you have the time or the expertise to create and implement a thorough SEO strategy, you may want to invest in hiring an experienced and trustworthy SEO to help guide you and implement the work. SEO can definitely be an incredibly worthwhile investment, just be sure to avoid the common SEO traps and scams out there.