Working in search, there are two things I know for sure about restaurants:
They're among the most searched for local businesses on the Web
They're notorious for having Web sites that are both invisible and make your eyes bleed at the same time.
Do you see how those two things don't go well together? Yes. Unfortunately most restaurants don't. And at no time has this been clearer to me than over the past few weeks.
There are a handful of new restaurants opening up a stone's throw away from the Outspoken Media office in Troy, NY. I know. You're all very excited for us and look forward to my tweets about how delicious the new Greek will surely be. As I've been anxiously stalkingchecking out the Web sites for all our new eating options I've noticed a common trend.
They're all awful.
They're off-putting to users, invisible to the search engines, and the experience they create makes me want to show up to their new business with a pitch fork. And not because I'm super hungry.
If you're a restaurant owner in the year 2011, you need to do right by customers and the search engines by following a few search engine optimization basics. Yes, I know your core expertise is in making delicious food (and I thank you for that), but that good food is going to waste if no one can find it. There are starving children in Africa, you know?
Below are six search engine optimization best practices your restaurant Web site should follow:
Enough with the auto-play. Really.
I almost get it. Food is an experience and you're trying to recreate that experience on your Web site with the help of some tunes. And because you're so kind, you don't even want to bother users by forcing them to hit the play button so set it to auto-play the moment they land on your site. Yep. Makes sense on paper.
Unfortunately, when implemented, it's a horrible, horrible idea. And you need to stop doing it.
I can pretty much guarantee that NONE of your users get giddy over auto-play tunes blasting them in the face. Not only is it inconsiderate to out their food searching to the coworkers they purposely avoid going to lunch with, but it's alarming to land on a site and have it start yelling at you. It's also awkward when the music you choose makes people fear they landed on a p0rn site, instead of a food site. For most of us there is a subtle difference. As an example, I would have pointed you to Uncle Ricky's Bagel Heaven, but, well, their site appears to be down. I think I've proven my point.
Kill the Flash.
There's a Cuban-inspired place opening up a short drive from the office. Being a fan of all things beans, I ran to the Web site as soon as @TroyMayor tweeted about it. Aaaand then I had a seizure.
Meet Café Caliente [caution: Another fan of auto-play music]. Click around. I dare you.
Woah.
Clicking on any of the navigational buttons sends you into a wacky Web design nightmare where nothing is secure enough to just sit on the page. Everything is moving, everything does something, and users aren't quite sure what to do. Worse yet, because this designer went for flashy magic instead of readable HTML, all the search engines get is an empty page. Pretty is nice, but not when it sacrifices the entire experience and your ability to be found by hungry searches. Café Caliente's tagline may be "make your like tasty", but I'd settle for them just making it easy.
Provide Location Info/ Map To Your Business
Hey! You want customers to be able to find you, yes? You want to give the search engines clear signals as to where you're located and what neighborhoods you're associated with, yes? Fantastic. Then stop hiding and put a darn map and location information on your Web site.
Daisy Bakers, a Troy, NY restaurant known for its fine dining and, um, "spirits" does a great job with this, providing the search engines with lots of clues about where they're located, while also making it easy for users to see where they are, when they're open, and how to get there. You would think it'd be easy to find an example of a restaurant that doesn't actively hide from its customer base but, well, you'd be wrong.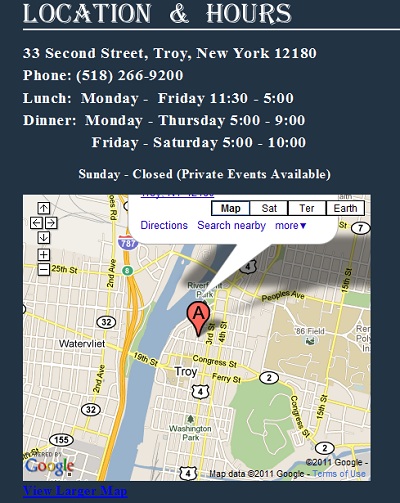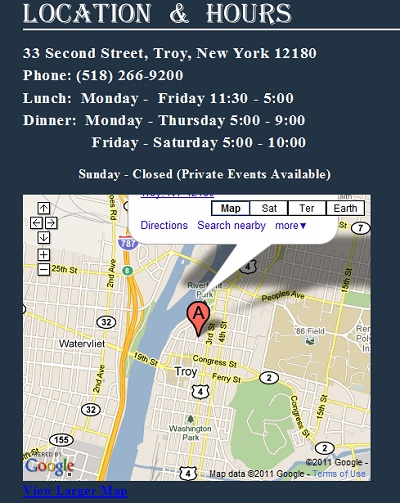 Make sure your business address, phone number, and a map to your storefront are all located on your Web site for customer use.
Use Spiderable Menus
There are many, many problems with the Web site for Troy coffeehouse Spill N Beans. Like, for example, the fact that it looks like it was built on Geocities. Or that its text runs over itself and there are things that flash at me. However, there's one aspect that bothers me most of as someone often unsure of what I want for lunch.
It's that their menu comes in two forms – Unreadable and Adobe.
As a restaurant, your menu information should be easily readable to users and searchers. It should NOT be a scan of the menu you hand out to patrons when they walk through the door.  It should be actual text that both users and the engines can decipher. Are you going to rank for that Southwestern Burger? Probably not, but you want the engines to be able to return that page to a user when they're looking for it. Because they will be looking for it. And when they get there, you best be servin' them with a page they can actually read and pass around to their coworkers while everyone puts together a lunch over. Otherwise, you're alienating hungry people. Never wise.
Last year, Chris Silver Smith wrote a post about SEOing menus and recommended also submitting your restaurant menu to a service like Dotmenu, which feeds into Google and other services. I would strongly concur.
Include Images…and Optimize Them
Over at SmallBizTrends, I wrote about how small business owners could take advantage of Google Business Photos, where a Google-sponsored photographer would could out and take pictures of their business to enhance their Google Place Page. I also mentioned how small business could also do this themselves and how they didn't need to wait for Google . This is still the case.
Break out your camera and take photos of your storefront, your employees, interesting dishes you serve, happy customers, your outdoor patio, your bar with 20 different local beers on tap, etc. This is the kind of content users want to see when they're deciding where they want to go grab a meal with their friends. Once you have the pictures, do yourself a favor and optimize them for local search so that it shows up in Image search and universal search.
Offer Social Media Signals
If you're a local bakery on Facebook and you're tweeting the moment the bread comes out of the oven – make sure your Twitter information is front and center on your Web site. Because I want to know that. If you're a coffee shop and you're using Facebook to promote events and open mic nights, make sure I can find that information. If you have a strong presence on Yelp, give me that. These are the signals users look for when they're evaluating a restaurant online. Give us the content we want and you're more likely to get us walking through your door to purchase that $8 cupcake. Trust me. It's great that you're going out and creating these new conversation hubs, now tie them into your core experience.
As a restaurant, whether local or big brand, you know people are searching for you. So why hide? What drives you nuts about bad SEO by restaurants?