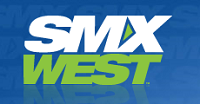 We're back! How was your lunch? Did you grab lunch? I did. It was delicious. And there was chocolate. Delicious, delicious chocolate. But we are back at SMX West and it's time to dive right into some more learning.  Up on stage Chris Silver Smith is performing double duty moderating and speaking.  Joining him are Brian Fitzgerald, Carter Maslan, Gregg Stewart, and Max Thomas to lead a talk about Google Places.  I wonder if I could get people to deliver me Reese's Peanut Butter cups like they dropped off cold meds this morning? Hmm…
Oh, okay, we're starting.
Up first is Gregg Stewart.  As I said on Twitter, I adore presentations by Gregg Stewart because they're always filled with data.  Data is super awesome.
To start us off, Gregg asks how many people have had to claim and optimize a Google Place page.  Lots of people raise their head and Gregg tells them they're not normal. I'm assuming he means people most people don't to do that (because they don't know to) and not because he has any kind of inside information on the people I'm sitting with. Or at least that's what I'm telling myself.
Importance of Local Search
Google Place pages are viewed millions of times a day, that's nearly 20 percent of all searches on Google. When you look at mobile devices, that number gets even higher.  Eighty percent of consumers are searching online at least weekly.  55 percent of searchers in 2010 went online to make a purchase. Local search site share has grown 20 percentage points since 2007 for Moving and Storage categories. 64 percent of local business searchers expect the business results to be within 15 miles of their location. [This is so true it hurts] This calls for a diversified strategy in the marketplace. You can't put all your eggs in one basket. You have to move yourself onto a lot of different Web site and a lot of different areas. Have I mentioned how much I love Gregg's presentations?
In October 2010, Google launched its new engine results page with Place Search
Affects on Businesses:
Google Place Page appear within the search results
Local results take precedence over "true organic results"
Greater opportunity to acquire qualified traffic
Creates a one-stop- spot for consumers to find all the information they are looking for
Google connects with third party sites; knowing what's on the Web about your business is more important than ever. [Reviews, photos, videos, descriptions, details, and more can be pulled from other sites to populate a business' Place Page.]
The effect is decentralizing the map and blowing out the content.
Local Search Ranking Factors
Search engine optimization efforts now need both Web site optimization and Place Page optimization to work in conjunction for effective results. Google places more precedence on local listings and the accompanying Place Page, while the description on the listing is still pulled from your Web site.
Factors affecting YOUR listing placement:
Claiming listings
Accurate Place Page profile information: Must be consistent and match across the board. This is what breaks a lot of people's optimization. Folks like Localeze, Acxiom, Express Update, etc, are beacons that help you make sure your business information is consistent across the Web. It's vitally important that you have to align all of your listings. This isn't a Google-only solution. You have to look at everything in totality.
Place Page optimization
Third-party reviews – 61 percent of local searchers consider ratings and reviews to be important.Reviews are one of the most important optimization techniques when it comes to local listings and position rankings. Google puts more trust in those listings with reviews, especially from 3-party sites
Next up is Chris Silver-Smith.
Chris is up and encourages people to read Google's post how to rank in Google Places and calls out some important things like:
Relevance
Distance
Prominence
Developing Prominence
Links/PageRank
Yes, it's now going beyond Link Building
Citations – mentions of a business
Mentions of a business name and address
Mentions of a business name and phone number
Chris talks a bit about Place Rank but does it faster than I can capture it with my fingers.  The gist is that Place Rank is like Page Rank for the traditional Web. How can you increase your prominence/Place Rank factor?
Utilize photo/video sharing sites
Encourage consumers to photo/video your biz.
Encourage customers to submit photos/videos to flickr, YouTube.
Encourage them to geotag their media.
Based on that, Google can determine the relative popularity of places within large cities.   Businesses may have to return to focusing more on traditional PR activities to promote their area instead of themselves, like getting book, magazine listings with your address. What else might produce citations – check ins, Facebook updates, social media mentions, etc.
Additional possible/future sources – Mentions of your business in YouTube audio tracks, business signage that shows up in photo images, news stories
Next up is Max.
He's going to share a mini-case study. The goal of the study was to determine what distinguishes the listings that rank on Page 1 Google for "dentist los angeles" from those that don't.  Sounds good?
To help them figure this out, they created a process.  Their process looked like this:
Google Places – look at details, photo/video, reviews, coupons and more for all indexed information and directories.
Citations
SEO Metrics
Max shared a number of slides that showed how they analyzed all the different sites ranking (or not ranking), but he flipped through them very quickly. I'd encourage you to go read his post on the same subject over at: Do Directories Matter for Local Search Ranking in Google.  It's the same information, but broken out far better than I can capture in a liveblog. Go there. But come back.
Back? Good.  He ends his presentation sharing some tips for local search optimization.
Recipe for Optimization
Inbound links from URL's that reference "los angeles" and "dentist" in the title tags, and on-page as well.
Inbound links from as many domains and URL's as possible with the exact-match anchor text "los angeles dentist" or "dentist los angeles".
Strong footprint of highly relevant and authority inbound links (as seen via the Page and Domain Authority metrics).
Owner-verified Google Places listing that indexes business information from the business owner website and shows reviews from Google Maps and other review sources.
A healthy number of URL's and domains that list the business Name, Address and Phone (NAP). While this analysis might indicate it's possible to rank WITHOUT a strong citation footprint, the majority of listings have consistent citations so it's highly recommended to include this as part of a local search strategy (BUT it seems clear that citations alone won't result in high rankings).
Yikes, that was a lot of information.
Next up is Brian.
It's really important that his hotel clients are showing up well with Place Search. You have additional opportunities for people to end up on a Place Page or on a third party site and NOT end up on their Web site. That got their wheels turning for an analysis he wants to share.  They looked at 250 Web sites, small sites. 90 percent hotels, 10 percent restaurants. They look out the weekend before Place Search launched and look at the year before it and what's happened after.
Before Place Search
50 percent of traffic coming from Google.
45 percent Other
3 percent Google Places
.77 percent Trip Advisor
After
2.44 change Google Places
.2.77  change in Other
There was not a significant amount of increase in the traffic. Restaurants saw an above average increase. International businesses saw a decrease in Google Places referrals.
Did Place Search Impact Your Business? It depends. It depends on
How was your local search optimization before Place Search?
How was your natural/organic search relevance before Place Search
How reliant are you on Google and third parties for traffic
What kind of business are you?
Google and Hotel Rates – we're seeing the introduction of rates right on the SERP. He thinks it's a concern for the industry because it introduces price comparison to a very early stage of the buying process.  Now people can compare prices right on the Google Maps page. He thinks its encourages commodization when people are looking more at price and less at quality.  Rates and rate checking showing on Place Page, as well.  That's actually pretty interesting.
How does this relate to you and your business? Intermediated business are most at risk.
Next up is Carter. He's from Google Places.
Why? Organize the world's information geographically and make it universally accessible and useful. There's a huge amount of information on the Web and they need to do a better job helping people discover it.
When they rolled out Place Pages they saved people 2 seconds to get to the place they were looking for. That's huge, they say.  One of the challenges they had is that there's  a huge amount of good content. There are so many good sources about particular places to eat. How do they make it easy to discover why any source matches what you had in mind – looking for spicy food, outdoor seating, etc.  They're doing this for all the places in the world.
Three tips:
Markup helps precision
Authorship builds trust
mobile matters