Category: Reputation Management
Welcome to the Online Reputation Management blog category.  We have something very important to tell you.
You suck.Your company ripped me off.You don't care about your customers.You messed up my order.Your president is a liar.Your brand eats babies.
Don't look at us like that. We didn't say it; droves of your angry customers did.
The sad truth is this: If you haven't been watching and monitoring your online reputation, these may be the comments filling the blogs and social networks right now. They're piling up faster than you realize and are scaring potential customers away.
Not all social media visibility is good. Online vigilantes have invaded the space and they're taking their problems with your company to the main stage. They're leaving disparaging remarks on blogs, forums, social networking sites, Wikipedia pages and everywhere in between. And the only way for you to stop them is to know that these problems exist in the first place.
And that's where we come in. This section is designed to get you up to speed on all the different tips, tricks, and tools available to help you monitor your online reputation and put out small reputation management fires before they grow into unmanageable blazes.  We'll show you how to find the problem, create a strategy to defend against it and how to discretely get rid of negative brand mentions.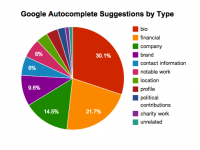 by Rhea Drysdale on 01/22/2013 • 2 Comments | Reputation Management


With the New Year comes a fresh start, but in many cases our past likes to follow us online in the search results, especially on Google. That's where online reputation management is needed to displace negative results with more favorable positive mentions and notable achievements. In an effort to better understand the types of content …Read More
---
---
---
---
---
---
---
---
---
---