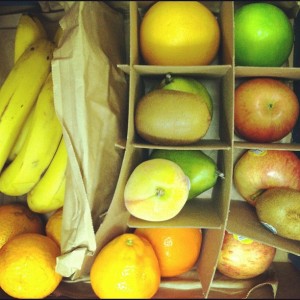 What if I told you that you could reduce reputation problems, provide great customer service, strengthen your brand, and live according to your values and mission through a single marketing tactic? The answer lies in fruit. Yes, fruit.
Around the Outspoken Media office, we've been on a big corporate social responsibility kick. It's one way we convey our values, so when I stumbled on a "fruit delivery" service from The FruitGuys, I had to know more. They provide a corporate delivery solution for local and organic produce. Fantastic! I'm a big environmentalist and the team has a love/hate relationship with carbs. This service could provide a healthy, environmentally friendly alternative to office snacking.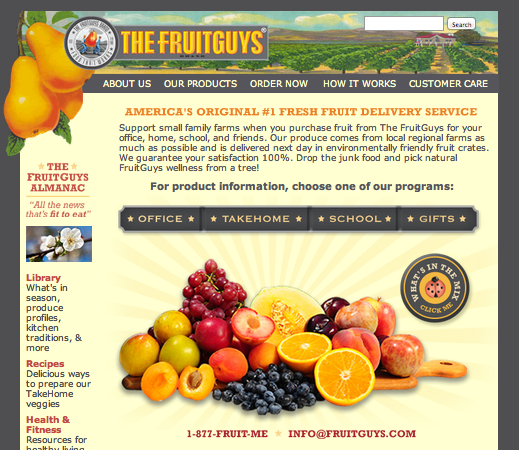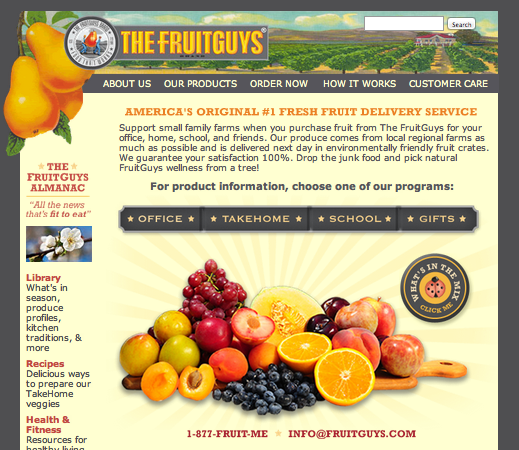 I signed up.
Happy Account Registration Day to you!
As soon as I set up an account with The FruitGuys, I immediately received an e-mail notifying me of the account creation and providing login credentials. This wasn't your typical e-mail with a password manager; it was designed as a celebratory event marking our entry into the wonderful world of corporate fruit deliveries. They called it a "birthday," and gave us their e-mail and phone number to contact them with any comments or questions:


Once I told the team about The FruitGuys service, there was no turning back. I placed our first order for a recurring weekly delivery.
Takeaway:
Follow up with fans to increase conversions and nurture a lead pre-sale.
A Forrester Research report highlights that companies who excel at lead nurturing generate 50% more sales-ready leads at 33% lower cost. – Client-Bridge.com
Order confirmation
Like most e-commerce solutions, The FruitGuys sent a receipt to my inbox. This wasn't your standard receipt, though. At the very top, before the purchase information and order summary, were their e-mail address and phone number. They really wanted us to know how we could reach them: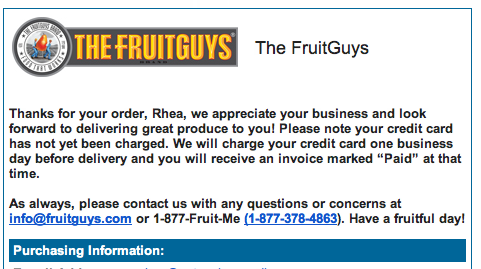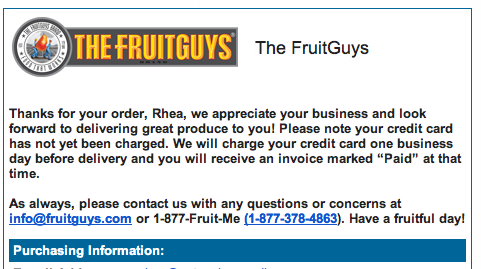 Takeaway:
Follow up with your customers to give them your preferred methods of communication.
Confirmation of recurring payment
The day after I placed our order, I received another e-mail from The FruitGuys, which was to confirm that my order was meant to be a recurring shipment. Unlike the first two e-mails, this came directly from an account rep at The FruitGuys. Now I had the name, e-mail address, and phone number of a real person at the company in the event of a question or concern.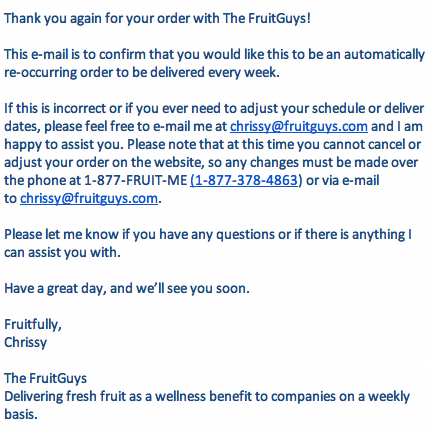 I confirmed, and they thanked me for our order. At this point in the follow-up process, it struck me that The FruitGuys had their own language: "Hi Fruit Fans," "Fruitfully yours," "Enjoy and be fruitful!" and "Happy FruitGuys account registration birthday." This was communicated through automated e-mails, and by their team.
Takeaway:
Follow up to infuse your brand through messaging and tone.
Quality assurance and guarantee
Three days later, and one day prior to our first fruit shipment, Matthew Macdonald, the East Coast Sales Rep for The FruitGuys contacted me directly with a voicemail and follow-up e-mail. Matthew quickly established a relationship with us, but even more important, he let us know that if we ever had any concerns with the quality of their fruit, they have a 100% quality guarantee, and are happy to replace the entire crate with no questions asked. Sounds like a value proposition to me! With one e-mail, I also knew the company's mission was: "Delivering fresh fruit as a wellness benefit to companies on a weekly basis."
He gave me his e-mail address, his phone number, and the main customer service line.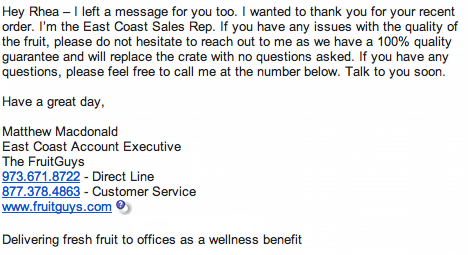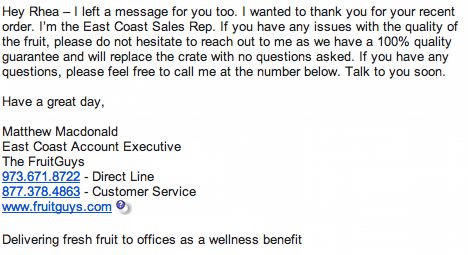 Takeaway:
Follow up personally to further define exemplify your values and mission.
Weekly payment status
Each week, we receive a new shipment of fruit, and the day prior, I receive a fun invoice from The FruitGuys marked "PAID" because we're set up with automatic billing. With each invoice, they include the contact information for their billing department as well as the main customer service contact information: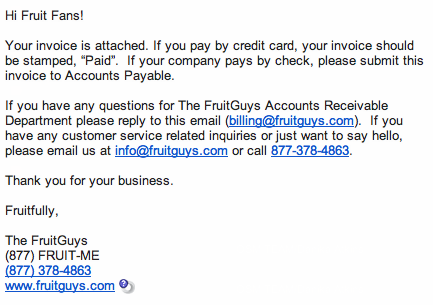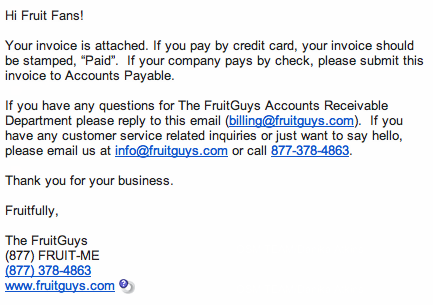 Takeaway:
Follow up to communicate your process for how to handle customer complaints.
Facebook management
Before receiving our fruit, we were so excited that we Liked The FruitGuys on Facebook. They asked us to take a picture when we received our fruit.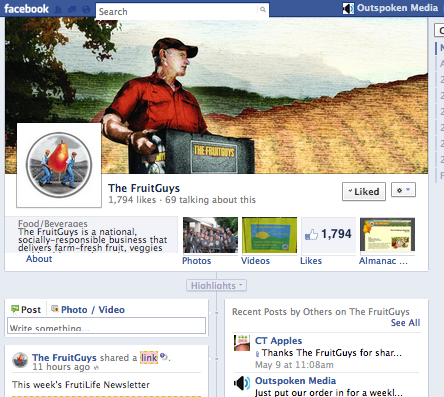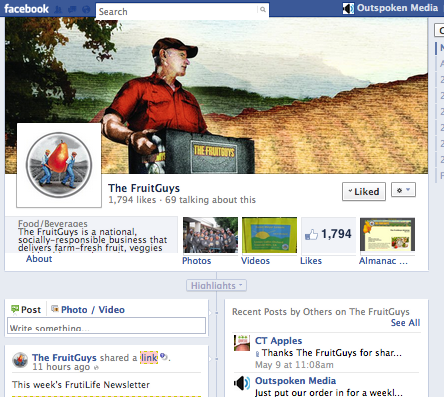 When we got our fruit, we posed with it as they'd asked of us, but also because we were now swooning over the company and our delicious fruit: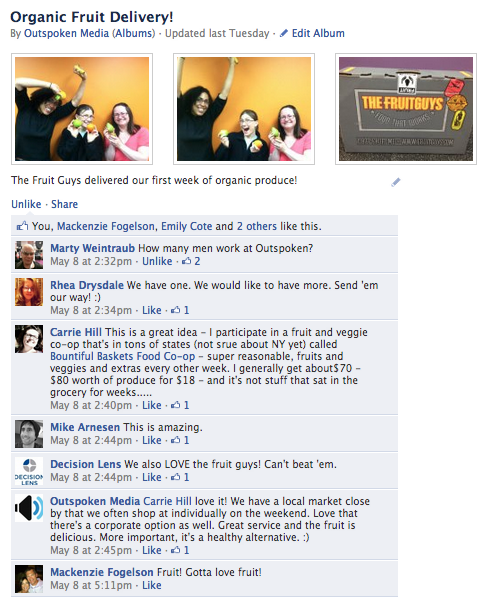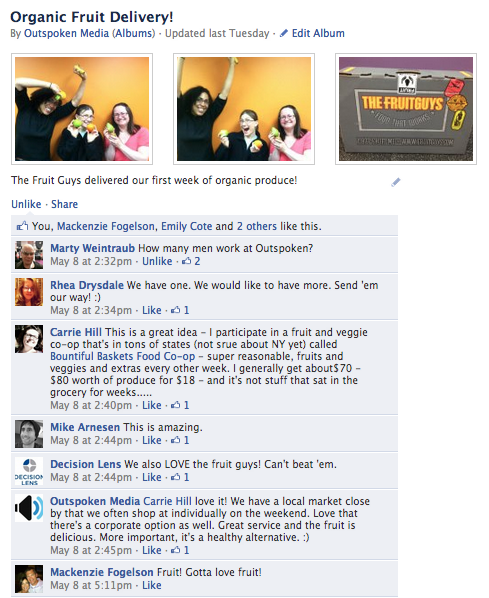 We tagged The FruitGuys in our update, and not only did they like it, they commented and then shared it on their wall: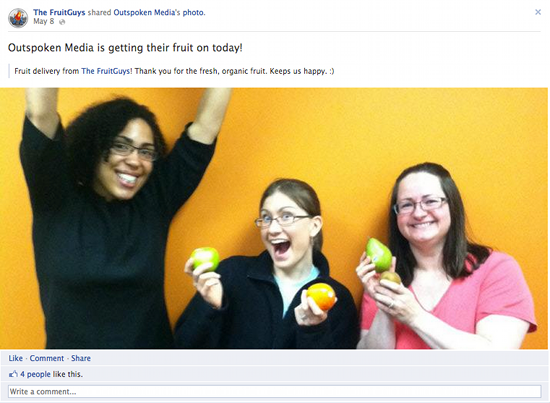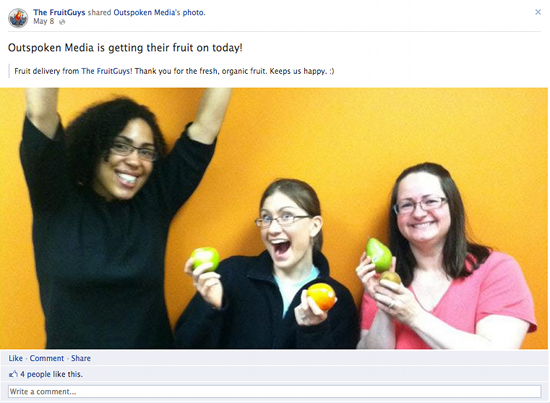 Takeaway:
Follow up to establish a strong online community and spread word of mouth marketing.
What's the secret to reducing reputation problems, providing great customer service, strengthening your brand, and living according to your values and mission?
Follow-up.
That's it. Find opportunities within your organization to increase follow-up and infuse your communication with each of the aforementioned goals.
At Outspoken Media, we've recently signed on with InfusionSoft to help us intelligently automate newsletter sign-ups and contact forms. We recognize that as a small shop, it's difficult to manage the sheer number of inquiries we receive daily. We have to turn to technology to help us scale, but in the process, we don't want to lose our voice or compromise our values. Below are several tools you can use to improve follow-up, and please take a minute to share your experiences in the comments below.
Tools for Follow-Up
Guess what else follow-up helps with? Link building and outreach. Make sure your team has a process for follow-up, and hold them accountable to it. You'll see a much higher success rate if you do. If you have trouble managing your inbox, check out Tom Critchlow's recent post on project management to hone your skills.