When Instagram Stories launched last year, users were shocked. The immediate reaction on social media was that it was shamelessly copying the popular Snapchat feature. But, that wasn't necessarily the case. Instagram CEO Kevin Systrom gave full credit to Snapchat, and added that a story "is about a format, and how you take it to a network and put your own spin on it." Social media channels like Facebook, Twitter and Steller are now implementing this format and allowing their users to serve content in a more dynamic way.
Since this method of storytelling has become so popular, I gathered information about how users are implementing this format and what its limitations are.
Steller Stories
Steller is one tool that I am most excited to share. This storytelling mobile app and social network allows users to combine pictures, videos and text to create longer-format stories. I've been using Steller since its launch in 2014, and I am a huge fan of how it showcases content. My favorite part is how great the stories look when I share them on other channels.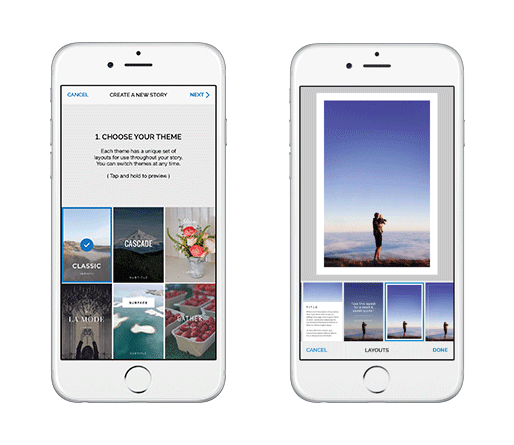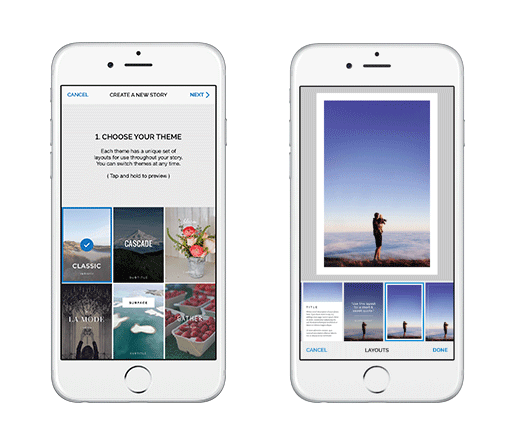 Source: Steller.com
However, a few days ago I started to question whether the Steller platform is still effective for sharing my content because I haven't seen much pick-up within my community. But, as I looked into the reasons why, I discovered that Steller recently partnered with Facebook to integrate Steller stories. This gives each story an instant lift, as it appears as a Facebook Instant Article on mobile. As a designer and social media marketer, this smooth user experience is exciting news for me. It means that I can share beautiful stories with photos, text and videos that auto-play with my followers — and, the stories will load quickly! Unlike Facebook Canvas, Steller stories can be viewed on desktop and still look great.
One of the brands I have noticed using Steller is GoPro:
When you share GoPro's Steller Story on Facebook, this is how it appears on mobile: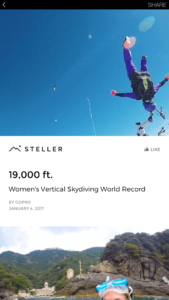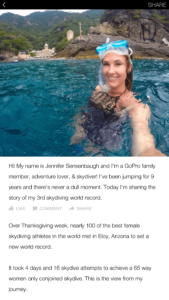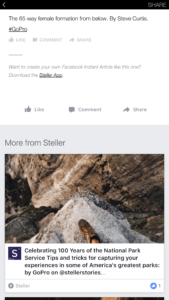 This is how it looks on desktop: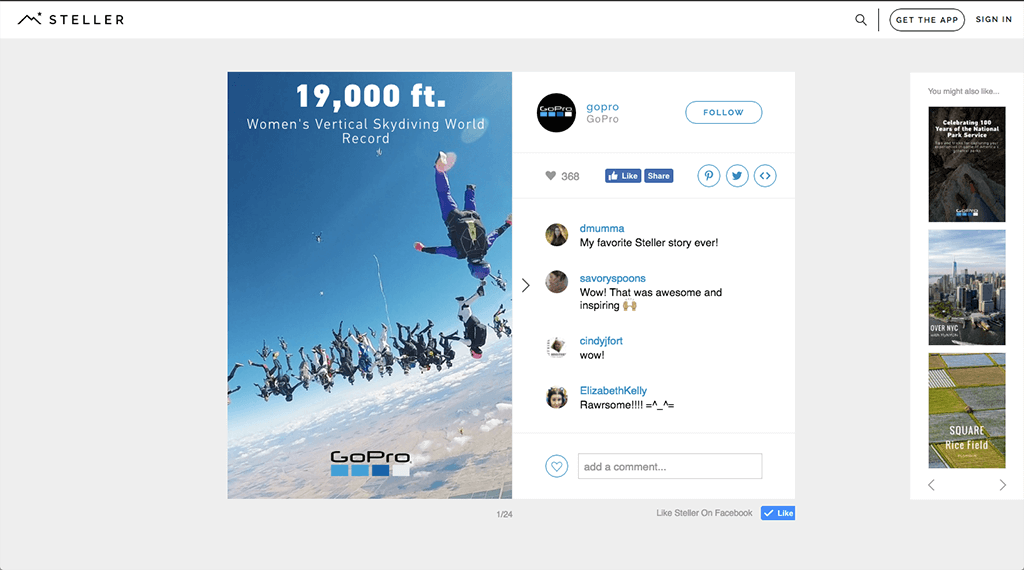 Source: Steller.co/gopro/
What I love about Steller Stories
Can be shared across social media channels
They become Facebook Instant Articles on mobile
They appear on desktop with great UX
Needs improvement
There isn't a button or clean CTA feature (I have only been able to create written links)
Facebook Canvas
Facebook Canvas is an "immersive and expressive" take on the storytelling format that allows businesses to tell stories and showcase products. Canvas allows the user to flip through a carousel, tilt to view panoramic images and zoom in to view detail. In my opinion, the best feature of Canvas is that it can include a call to action button.
Canvas, like Steller Stories on Facebook, is intended to load fast and offer a seamless experience. However, even though it's very flexible and dynamic, Canvas has limitations. Canvases are built only for mobile, so there will be an error if a user tries to view on desktop. Therefore, the most common use of Canvas is for ads.
Source: Facebook.com
What I love about Facebook Canvas
Creative features: full-screen images, videos, image carousels, full-screen tilt-to-pan images, and product sets
Buttons and calls to action: allow you to go to a product page, blog post or website
Needs improvement
Stories can only be viewed on Facebook
Canvas only works on mobile
Instagram Stories
Instagram launched its "Stories" in August of last year. It allows users and businesses to share everyday moments (even the ones that don't need to stay on the feed), but avoid oversharing. Instagram Stories can include photos, videos, and boomerangs in which you can add text, draw, and also do live broadcasting. Since the launch, more than 150 million users are using Instagram Stories daily and businesses have seen high engagement. Instagram also says that one in five stories on Instagram gets a direct message from viewers.
However, many clients struggle with strategy and creation of daily relevant content for these features. The good news is that Instagram recently introduced a series of tools to help businesses: full-screen ads in Stories and Stories Insights.
Source: Instagram for Business
Ads in Stories can use targeting, which serves ads to the specific audience you want to reach. Stories Insights allows business profiles to see the reach, impressions, replies and exits for each individual story.
Felipa Monteiro, Head of Digital Marketing at Mulberry, says that as early Instagram Stories adapters, they are impressed by the reach and the engagement. "Our recent campaigns that included a stories link, received 5X more clicks to site and engagement when compared to the average seen across our other social channels."
Several big brands are testing Instagram Stories ads and it's expected that they will be adopting the format soon.
Linking from stories is a feature that is being tested and is only available to verified accounts. I anticipate that this feature will eventually become available to non-verified business' ads, as well.
What I love about Instagram Stories
Organic Instagram Stories (photo, video, Boomerangs and live streaming)
Instagram Stories ads
Instagram Stories Insights (reach, impressions, replies and exits from each individual story)
Audience targeting
Needs improvement
Link from stories only available for verified business accounts
Snapchat
Snapchat, considered the pioneer of this storytelling format, says that 150 million people use the app every day and watch over 10 billion videos per day. This makes it a very popular channel for brands to deliver brand messaging or drive particular actions. Snapchat reaches over 41% of all 18- to 34-year-olds in the United States on a given day.
The same team that created the Snapchat consumer products has also worked on a variety of ad products to help brands reach their goals. These include video advertisements where you can swipe up and read an article, launch an app installer, show a long-form video or quickly access a mobile web page.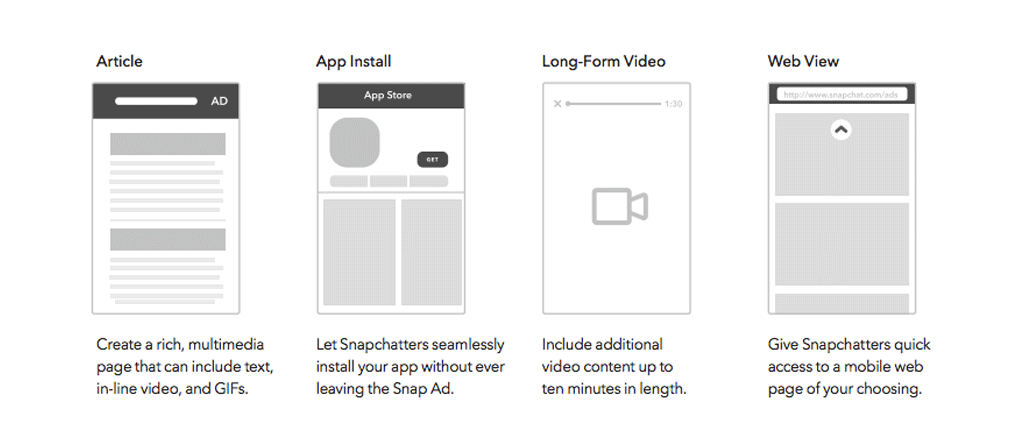 Source: Snapchat.com
What I love about Snapchat Stories
Varied ad formats for different goals: articles, app installs, long-form videos, web views
Audience targeting
Needs improvement
Snapchat stories can only be viewed and shared within Snapchat
BONUS: Twitter Moments
Later last year, Twitter opened its Twitter Moments feature to all users. This allows each user to curate a series of tweets to create a slideshow version of a "story". The way this canvas displays the story is different from other social media channels. Photos, videos and GIFs are included with a tweet that appears at the bottom of each slide.
Twitter, itself, uses this feature to showcase events happening around the world. Below, I've included examples of brands using Twitter Moments creatively in other ways:
Here, Twitter is demonstrating how to create a richer story using Moments:
Tips & tricks for making a great Moment
Mashable was able to capture reactions to the Microsoft Surface Book reveal by using Twitter Moments:
Microsoft Unveils The Surface Book
Budweiser told a little of its own brand history about how its beverage cans represent America:
What I love about Twitter Moments
Always accessible from your Twitter profile: When you create a Moment, it is saved under your profile and can be shared any time or edited later to add more tweets.
Building stories together: Moments allow a user to interact with the community. Twitter Moments showcase tweets from influencers or users that interact with your brand or campaign, strengthening the relationship with your community and making a collaborative story.
Needs improvement
The strategy might differ from other social media channels. Since the format of this feature is different from the other social channels, there is a chance the strategy and the way you tell your story on Twitter through Moments will change. I personally see Twitter Moments as a tool that comes at the end, as the story has already been told through a period of time, to tie it all together and as a way to repurpose content one more time.
Tell your story!
I'm excited and have too many questions after exploring these popular storytelling tools and features. Is Facebook going to allow users to share Instagram Stories on Facebook and display as Instant Articles? Are we going to see more storytelling apps popping up? How are brands going to use the storytelling format to improve "customer experience"?
I look forward to seeing how this storytelling format is evolves (or not) and how both brands and users continue to create and consume content. Are you thinking of using any of these channels to create stories? Are you as excited as I am? Share your thoughts in the comments below!