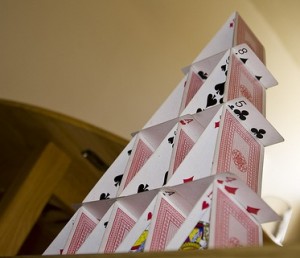 As search marketers, building trust and relationships should be second nature, it's vital to what we do for our clients. Maintaining expectations, effectively promoting brands, and finding new avenues to drive qualified traffic are all dependent on trust. However, building trust is a two-way street and in the past clients often had to take a leap of faith when investing in a search partner to achieve results. Money was exchanged for various services and engagements grew longer and larger depending on the results achieved.
As the landscape has changed from recent algorithmic updates, so did the model of how agencies and clients interacted. Some engagements have shifted from full-blown promotion to damage control, cleaning up fallout from past engagements, establishing new baselines, and auditing internal client activities.

It's difficult to establish trust
With each new engagement we have to earn a client's trust, and it's not getting any easier. This is often the result of a campaign gone awry or past tactics done without full disclosure that resulted in a negative performance. Regardless of a client's past relationship with a search marketing partner, trust is a necessity. We are tasked with marketing digital properties in constant flux due to algorithmic updates, and are expected to not only stay afloat, but increase performance, which can make for a variety of difficult situations and decisions. And, clients are putting their neck on the line for us to increase growth in an uncontrolled environment.
That's a heck of a lot of trust on both sides!
Half of the battle with building trust boils down to setting expectations. Clients need results, and as an agency we are tasked with providing recommendations, strategies and efforts within a pre-defined scope of hours or cost. Getting these expectations nailed down at the start of discussions is essential. How do you effectively set client expectations?
Start with the pitch
While Outspoken Media grows a majority of our business through referrals from existing clients; pitching new business through phone calls, meet and greets, presentations and RFP's is all part of the process. That shiny proposal or presentation with ranking, traffic, and conversion projections is a necessity–clients ask for it, procurement demands it.
Search marketers, consultants and agencies are used to promoting, validating and defending our expertise. How else can a client pick the agency that best fits their needs? When the expectations you set get inflated, this is when relationships hit trouble. Trust goes both ways; let's not kick off our relationship with one of us cheating on the other.
This is the first step in building trust–setting the stage for what is achievable even if it goes against what clients think can happen (or think they deserve) within a given timeframe. This is also the timeframe for setting your expectations on what the client will be responsible for internally. Implementation delays of recommendations and legal approvals can wreak havoc on delivering results in a timely manner. Getting these issues ironed out before a formal statement of work is signed or within the project kickoff will ensure both parties are held accountable. Knowing who is responsible for each piece throughout the delivery and approval process will help expedite any roadblocks.
Get to the point
Clients often don't have the time to address internal questions about search performance, algorithmic updates, or why certain campaigns aren't working as fast as some would expect. That's our job. They are busy wearing multiple hats, managing numerous digital properties, and trying to get internal resources allocated to make their efforts a success. This is where pushback and campaign lulls set it.
The key is to not to take this as a burden, but an opportunity to support your clients. Take the necessary steps to make them aware their investment in your agency was worthwhile and that you can be tapped to support their findings, or answer questions that are out of their comfort zone. Probably one of the most valuable and least addressed areas of an engagement is proactive education.
Investing in client education can help make them the internal champion, an added proponent for the benefits of search marketing and the value behind your work. I'm not talking about training clients, but rather weekly updates about changes in the search landscape and how those changes could impact their business. Find out when they have internal meetings or 1:1's with their direct reports and arm them with updates about search and recent wins. Identify areas of importance or topics that resonate well with their internal teams, provide information that makes your client an expert within their organization and bring some added insight they may not be aware of.
Knowing the internal hurdles they face on a daily basis and aligning the recommendations to back their strategy can have immense success.
Trust and success are built upon small wins
Search marketers love finding silver bullets–that core set of recommendations, glitches or missed opportunities that can have a profound impact on the success of your client. Getting those core issues resolved is another hurdle all together, especially if you haven't built relationships with the individuals or teams responsible for resolving them. Without trust, or at least an introduction on how you can help, you are just another consultant adding to someone's increasing workload.
One of my past e-commerce clients had a dedicated person responsible for managing the site's robots.txt and XML sitemap. This individual was organizationally segregated from the digital marketing team. A five minute fix involved a written functional requirement document, three meetings and a handful of internal approvals. It was an uphill battle for a simple fix that would also curb an increasing amount of errors that were getting indexed that the client's technical team didn't know about.
Rather than following the established chain of command that wasn't resulting in any progress, we found out who was responsible for making the changes and gave them a call. We communicated that implementing our request would also resolve a few critical issues caused by a web application and that one fix would be mutually beneficial. In the end we gained trust, and recommendations that didn't require more than 16 hours of development resourcing were given the green light. We learned we could build trust by framing the conversation through the lens of wanting to help, as opposed to highlighting a bunch of problems and parading them through the IT department. Ultimately, providing the client's team with education and insight on fixing a critical issues put them in a good light.
When clients don't trust your recommendations you feel defeated, so you need to establish that trust right away. Lobbing recommendation after recommendation over the proverbial fence rarely has much benefit, and the tone in which you make suggestions can cause delays. Your value and expertise spans more than an audit or strategy deck. Talk to your clients, find out what can help them in their role, and most importantly, be honest about what realistically needs to happen to meet their short and long-term goals.