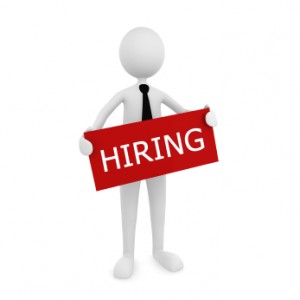 Earlier this week Rhea and I were invited to Kingston, NY to speak at the local 140 conference taking place there. The topic for our session is one that we are intimately familiar with – finding hot local talent.
When Rhea and I opened up the Troy, NY Outspoken Media office last summer, we were up against two big challenges.
First, though our brand is pretty well known nationally, we're not as well known in our own backyard since we don't cater to small business or take on many local clients. The other problem was that we were opening up an office in Troy, NY. While I'd argue we have a pretty good crop of talent in this area, it's obviously quite smaller and less experienced than areas like New York City or Los Angeles. And with small numbers and less experience comes more competition for spots and the added time of having to properly train people. After a few early mis-hires, it was clear that we needed to change up our hiring strategy if we wanted to find the pick of Troy's litter.
Below are a few tips and tricks that did (and did not) work for us when looking for hot local talent.
What Didn't Work…
In perhaps what was a glaring sign of our inexperience and naiveté, Rhea and I started off trying to recruit local talent using online job boards like Craigslist and Monster.com. Since this was where WE went to find jobs as hungry young professionals, we assumed it would be a good place to find others like us.
We couldn't have been more wrong.
While posting ads on these traditional online job boards surely helped us RECEIVE a high number of responses, they weren't necessarily coming from quality candidates and just meant that we wasted a lot of time wading through a sea of bad candidates. After a few rounds of nothing but ill-suited folks, we decided to try something else.
We moved from online job boards to the physical job boards located at several colleges and universities in the area. Again, a noble effort but one that did not do a good job introducing us to quality candidates. With time a wastin', we knew we had to put our heads together and find a better way.
What We Did That Worked…
Built Connections Through Local Meetups
Our first step toward meeting potential new family members meant getting out of the Outspoken Media cave and becoming an active part of the marketing and developer community here in town. Actually, perhaps the first step was realizing that we even had one. ;)
As a company, we've been able to participate in a number of ways:
We became involved in the Social Media Breakfast: Tech Valley events that were put together by Amy Mengel.
We joined the local Chamber of Commerce and Rhea became a speaker at one of their events.
The Outspoken Media team began attending the Albany chapter of Build Guild, a monthly meet up for Web people and developer-types.
We were featured in and spoke at the local paper, The Troy Record
We attended and spoke at Tuesday's 140 conference event in Kingston
We participated in lots of other local events
All of these things have helped Outspoken Media to become part of the community. This helped us get to know those looking for jobs and it also helps job prospects to learn more about us, as well.
Connected with Local Professors & Universities

One of the other things we did was to look for opportunities to connect with local professors. By getting on their radar we were able to brand Outspoken Media as a prominent marketing firm in the area, while also getting in front of graduating college seniors who were looking for positions in the marketing world. This idea was recommended to use by Wil Reynolds, CEO of Seer Interactive, and is one that, I think, served us very well. Not only was Rhea able to secure lecture opportunities at NYU, Columbia, SUNY and Bryant & Stratton College, but it also meant that professors were circulating our career opportunities through their entire student database. Not a bad gig if you can get it. ;)
Embraced the Poaching Potential of LinkedIn
There are many ways to use social media to help you locate potential job prospects, but LinkedIn is probably my most favorite, even above Twitter and Facebook. I love LinkedIn because it allows you to create a powerful local referrer network simply by forming relationships with the right people.
When you're building your LinkedIn account, obviously you'll want to connect with colleagues and others in your industry, but don't forget to connect with local business owners, professors at nearby universities where you have relationships, community group organizers and others that you've met through participating in LinkedIn groups and other social media outlets. You want to build up a strong local network so that when you are hiring, you already have a referral network that you can reach out to for recommendations or to vet certain prospects. You can also search for candidates by their recommendations (with an upgraded account), which is a pretty useful way to judge whether someone is worth bringing in for an interview or not.
Of course, that's not the only way to dominate LinkedIn. We're also really big fans of the LinkedIn Advanced Search. What makes the Advanced Search powerful is that you're able to search by keyword, years of experience, job title, previous employer, etc, and then have that list refined to only show you the people 50 miles from your door aka the candidates who could actually show up to work every day.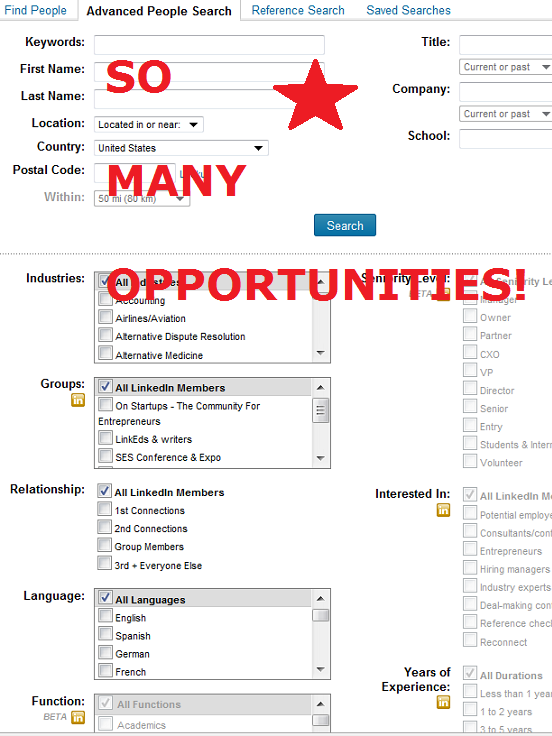 Once you have the list LinkedIn was kind enough to compile, you can begin researching each candidate to discover where they currently work, where they have worked, what their experience level is, what groups they belong to, what events they may be attending, etc. And while we'd never (officially) recommend poaching employees from someone else, this is a good way to start open a door with a potential candidate. And, hey, you never know where that may lead. Like, perhaps, to a local event that you know they'll be attending.
Kidding. Sort of. Fine, stalking people is bad.
[Rhea's two cents: I'm fine with it. Employees only leave if they're unhappy or need something more. Keep your people happy. It challenges us to do the same. A bad economy isn't an excuse for treating your team like dirt.]   [Sure, if that helps you sleep at night… ;) – Lisa]
Dominated Twitter Searches
Though LinkedIn really is my preferred social network for hunting down potential new OSM recruits, sometimes there's nothing quite like a Twitter Search to help you eavesdrop on a conversation you'd like to be a part of or, at least, would like to know is going on.
For example, I mentioned that sometimes many of the ladies of Outspoken Media like to attend Build Guild, which just had its monthly meeting this past Tuesday. Had I performed an Advanced Twitter Search before the event, it would have allowed me to hunt down other people in this area who were attending so that we could learn more about them before we show up and see who has the skillset we may be after.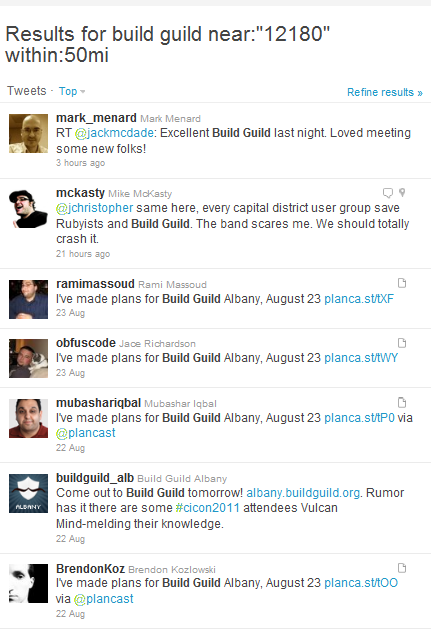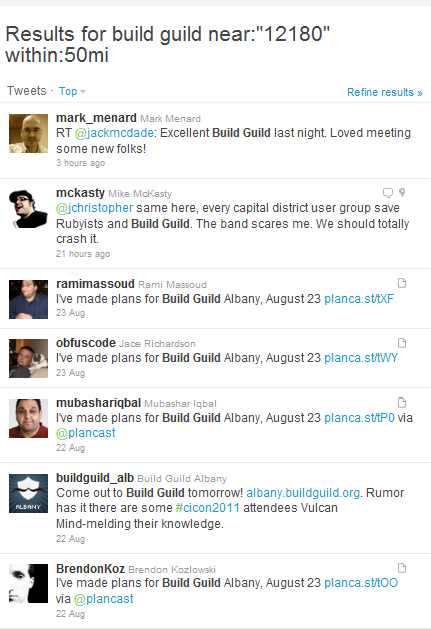 Created an Email List for Candidates
Through our local outreach and simply getting more involved in Albany's SEO and marketing scene, we've been truly fortunate to come into contact with a lot of great job prospects. But that doesn't always mean we meet them when we're in a position to hire them. To help make sure we're not missing out on potential talent, we've created an internal email list for people we know that we want to hear from when a position does open up. We will then reach out to this pool of potentials before we even announce an opening publicly. Essentially we've been able to create our very own OSM referral list.
Those are just a handful of the solutions we've adopted to help Outspoken Media secure some of the Capital Region's top Internet marketing talent. What tools or sites have you adopted to curb the hiring problem?
And, if you're interested in joining the team, visit the careers page to learn more and contact us.