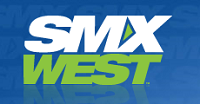 Welcome back! I hope you had a scrumptious lunch wherever you are because it's time to talk about reviews, ratings, reputation and possibly other things with the letter R.  We'll have to see what this group of panelists can come up with.  Maybe some rib eye. Anyway.  Up on stage Matt McGee is moderating speakers Rhea Drysdale, Chris Silver Smith, and Gregg Stewart.  Lets just jump into it.
First up is Gregg Stewart.
One in five searches has a local intent.  One out of every three mobile searches has a local intent. How do you pick a business in a particular area? Ratings and reviews are a pretty big part of that selection. Consumers are increasingly using more sources to find local information and content.
76 percent using search engines – 19 percent growth YOY
67 percent using print YPs
A good percentage of consumers still have a decision to make when conducting local search.
37 percent users are researching to help decide which P/S will fulfill their needs.
25 percent Looking for info about a specific P/S that I have already decided fulfills my needs
18 percent To compare businesses
In fact, when searching locally….
45 percent of mobile searches expect to find ratings and review info
40 percent of social expect to find ratings and review info
32 percent of all searchers expect to find rating and reviews info
Ratings and reviews become even more important with the platform
1 out of every 4 searchers say they that ratings and reviews make their decision to buy or not to buy. Despite the importance of this information, only a small percentage of consumers are creating this content. Only 23 percent of consumers have ever submitted a rating or review online. The challenge becomes consumer want the information but they're not finding a lot of content.
Marketer Tips: Important tips to ensure your business gets the reviews both consumers and search engines want and need.
Ask previous customers to help build your content
Build a presence on sites such as Citysearch and Yelp
Make sure you have a response plan. Know what you're going to do when someone leaves a bad review. Have a plan before you embarrass yourself.  Once away, try to respond immediately. Don't be defensive. Keep it brief and try to take the conversation offline.
Quality over quantity: You have to be authentic in the type of content be derived from the business.  Do not have your family leave you positive reviews. :)
Take the good…and the bad.  Don't hide negative reviews, this adds to your credibility.   Take the feedback and then fix what's broken. After all, perception is reality.
Last but not least…knowledge is bliss.  Consumers ratings and reviews are found everywhere. Find out where you are currently mentioned and where you could be one day. Visit this sites regularly: Facebook, YouTube, Google Maps, Yelp, Twitter, CitySearch, FourSquare. It's really important to get in the game and start generating content
Next up is Rhea to talk about review signals and techniques. Everyone be nice to Rhea. It took her about 14 days to get from Albany to San Jose thanks to canceled and delayed flights. I thought she was lost forever.
Review Signals – what are the signals that are informing Google of reviews and that are affecting reviews?
Reviewer location
Frequency of reviews
Reputation scores
Social network of users
Content aspects – sentiment-ish
Google Assigns Reputation Scores to Reviewers AND Individual Reviews. Any time you go in and rate reviews, its affecting the overall reputation score of that user.  Reputation score is affected not only by that user, but that user's friends.
They look at:
User Personalization: The personalizaton of your profile allows Google to know that you're a real person. It helps them connect the dots between all of your networks. [Frankly, this scares me. I like having multi social network personality disorder]
Users Review History: How many reviews have you posted, where were you when you posted it, how in depth are they?
Review content: Does the content of the review matter? Yes, it does. Preference given to those with summaries and/or descriptions.
Freshness: They want to display the most recent reviews but if they seem shady they're going to be more buried
Users own social network: If you're logged into Google, you'll see content shared by your network.
What's driving social results?
Friends on:
Gmail (with Google profiles)
Twitter
Flickr
Quora
Yelp
Friend's Web sites (not shared, profile pull)
Search social beta: &tbs=frim%3A1 (or sidebar)
Aspects:  IDs picked up by Google. They relate to a certain category that a business is in.  What aspects do they tend to look at it or pick up on?
Common Aspects
Ambiance
Atmosphere
Customer service
Decor
Dining
Dishes
Facility
Facilities
Fish
Food
Location
Meal
Music
Portions
Presentation
Price
Service
Staff
Steak
Sushi
Tuna Value
Common Aspects Sources
Yahoo.com – majority
Citysearch.com – majority
InsiderPages.com
Judysbook.com
Niche local sites
Sentiment Analysis is flawed.  Rhea shows how a pulled review snipped that reads "lovely customer service people" sound positive but was actually intended as sarcastic.  Computers can't pick up sarcasm, hell, most people can't either.  Welcome to my  hell of constantly offending people.
Sentiment: After DecoreMyEyes update, Google said they took out "extremely poor user experience". No measurable results from the update.
Future Signals – what else could Google be looking at?
Improved sentiment analysis? Increased filtering of data sources and signals for irregularly high negative responses (DecorMyEyes)
Transaction verification with services like Mint.com and SpendGo
What kinds of questions do we have all about this?
Do you need reviews to rank in local?
No, but… Reviews add relevant content and count as social indicators.  Google's "Related places" on a review-free Place page will draw user's eyes and potentially draw clicks.
Do you need to use hReview? No, but… using hReview and structured markup helps Google correlate your pages with places mentioned. Can also add rich snippets to the SERPs, which may improve conversions.
More on hReview microformat
Open standard for distributed reviews.
Aims for simple properties common to multiple products, objects and services.
More on hReview: microformats.org/wiki/hreview
Implementing hReview with WordPress: yoast.com/implement-hreview-wordpress-theme/
Ratings
Use microdata, microformat or RDF markup
Google assumes 1 (worst) to 5 (best) rating scale by default
Can use anything to classify rating
Soliciting Reviews [aka tips Yelp tried to make everyone believe yesterday]
Talk about the site where you'd like a review, e.g. Yelp.
Use that site's services and offers to incentivize reviews.
Create great content, services, products that users will want to review.
Ta da! [Yes. And then business and unicorns and puppies come RUNNING OUT TO SNUGGLE YOU!]
Other Methods
Request reviews – word of mouth, phone, email, exit interview
Construct your own review portal
Use a review service
SEO Strategy
Establish baseline
Audit existing reviews
Manage fake reviews & conflict of interests
Create a testimonials page and strengthen internal/external backlinks
Solicit testimonials through exit interviews
Develop and promote off-site content
Develop and publish video testimonials
Publish testimonials and bulk up directories
Next up is Chris.
Decor My Eyes Fiasco: NYT article highlighted online retailer who claimed he gamed Google rankings through purposefully encouraging negative consumer reviews.  Google responded stating they adjusted their algo to address bad players. This guy threatened people with violence, didn't give refunds, etc.  He was the poster child of an awful merchant. There's been some controversy since then about what Google actually did. Google's been closed mouth about what they really did. Google/others said links on that review sites were poor quality/not helping…but they did something.  So what did they do?
Negative reviews may  have provided "citations" used in Google Places Search and Maps
Citations are:
mention of a business
distinctive business name
business address
business phone number
URLs (not necessary linked)
Citations combined with particularly bad user reviews may be negative rank factor
Citations from consumers complaint sites may factor in. Examples – ripoffreport.com, iaccuse.com, complaintsboard.com, etc
Sentiment analysis might factor in.  It's not enough just to mention a company or a Web site, but the other contextual words around it, as well.
Sentiment analysis might actually harm rank, not help.  Google has said multiple times that they don't include the actual rating into the rank, but local search experts have seen some correlation between high rankings and high ratings
Keyword relevancy in reviews affect rank – don't coach people, but ask people to give reviews if they're happy with you, maybe specific to the product or service you provided.
Reviews used in shopping, local, books. Interested to take a look at those and watch what's happening in those verticals.
Use hReview Microformat For Rich Snippets
Yelp
Urbanspoon
TripAdvisor
Yahoo
CitySearch
Insiderpages
Tips for improving your review profile
good customer service: constantly revisit policies
reviews not associating on Google Place Page? Check address info!
where possible, respond to negative reviews and turn lemons into lemonade
incorporate hCard & hReview
Checking microformatting with Google Rich Snippet tool.
And we're done.  See you in a bit.