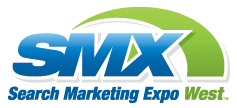 Stay with us, folks! Only two more sessions and SMX West will be one for the record books. The next session is always a fun one because it's straight Q&A with some of the best and most trusted minds in the field.   This time around Danny Sullivan will be moderating an all-star panel with Greg Boser, Bruce Clay, Vanessa Fox, Todd Friesen, Aaron Wall, and Jill Whalen. Rand Fishkin is also up on stage pinch hitting for Rae, who had to pull out of the show for personal reasons.  Rand's almost like Rae. But without the swearing or testosterone.
Danny lets us know that Matt Cutts is being interviewed in the hall right now so they're trying to get the spammy stuff out of the way before he gets back. So naturally they're starting with Jill Whalen.  We all do intros and Bruce tells everyone to go visit his site. Just like he does every time he's introduced.   He could use some new material.
We hop right into the Q&A.
Any problems with using rel=canonical globally as a safeguard against rogue programmers?
Vanessa: It can be a good idea as long as you make sure the URL matches the pages. But if you're able to implement it globally so that it's matched to the right page, it can be helpful.
They're all using it globally these days.
What's the best way to handle pagination in response to PR?
Vanessa: Ask if you need all those pages to rank. If you do, then you need them to all have unique titles, etc.   Do you want page 8 of the pagination to rank and if so, what for?  It depends what your goal is.
Bruce: They had a case where a client was doing Ajax and the IT team decided to break them into different URLs and they copied over the original URLs. The engines dropped ALL the pages as duplicate content because they all had the same titles. It's critical to have all unique titles.
Rand: He likes going deeper with more subcategories to eliminate the need for pagination.
Todd: It's just a user experience thing. [OMG, Oilman is talking about user experience? Someone hold me!] Why would you have 10-12 pages of the same thing?
What are some good free training resources for SEO newbies?
Jill: Her newsletter and her forums.
Rand: Bruce Clay, SEOBook, 9 By Blue
Vanessa: SEOmoz, Search Engine Land
Greg: He'll have a blog on Monday on GregBoser.com.
Todd: He has a blog but he only blogs with 1-2 times a year.
[well, that was nice that everyone got a chance to whore one another, isn't it? ]
Danny: Read Google's guide. You should know what they're telling their people about SEO. It's important to know what they're explicitly telling you.
Todd: When you're just trying stuff do NOT try it on your company Web site. Go try it on one of your sites. You don't want to be the guy that gets your company kicked out of Google.  Make sure you know what you're doing so you don't take the site down.
Aaron: If you read Google's public guides, if you added "in an ideal world" that would be the lens through which that's written. [HAHA!] They also have guides for their remote quality raters.
Does Google appreciate that an entire site is dedicated to a particular topic vs a single page on a much broader site?
Aaron: There's lots of ways to match up with the algorithm. If you go the small site route, you'll be able to align all your anchor text but some of the large sites can just rank on authority. You want to look at the results and see what's working to use it as a baseline.
Greg: If you have authority, a single page or sub directory can do really well. If you don't, you won't rank for competitive phrases.
Bruce: Siloing! [everyone drink]  They've been able to get 40 makes/300 categories from one site to all rank just by putting them in the right spaces. He thinks you can do it either way. A site properly themed will rank. A small site by definition is almost at the same level. He doesn't think it matters which way you do it.
Jill: Remember that the links that point to your site label it as a certain type of site.
[Greg announces that Matt Cutts is in the room.  Everyone behave.]
How important is SEO in blogging vs the frequency? And how long a post be?
Greg: Frequency doesn't matter if no one is reading your blog. Frequency is good for readers but people have to actually care about the content.
Vanessa: As far as length goes, it has to be as long as it needs to be.
Jill: Write them for your audience, don't get too caught up in SEO on blog posts. They're not gonna rank for highly competitive phrases.
Todd:  Do keep in mind keywords in your title. He mentions how The New York Times missed the boat when the plane crashed into the Hudson because they didn't use "plane" or "crash" in the title. They went with a clever title, instead.
Rand: They do lots of testing about when to publish.  You want to optimize your content so that Mahalo can best scrape it and put it in their results.  You can also republish new posts on old URLs (and move the old one) so that you get the old links + the new links to get the rising tide.  [Greg says that's a little blackhat.]
Aaron: There are plugins for different blog platforms like SEO Title Tag where you can make your h1 heading optimized for readers.
Greg: He says the plugins work really well.  You can write different headlines for users and the search engines.
As a news publisher, should you publish different site maps for your own? Do you need multiple site maps?
Vanessa: If it's a regular Web site, you may because it will help you see which parts of your site are getting indexed the best and spot potential problems.  For a news site map there's no need.
Bing and Yahoo – What are your general reactions?
Greg: He can't wait. There's a lot of dormant stuff in Bing that will produce traffic once its on Yahoo.
Todd: It looks like if you search in Bing for something and Yahoo for something, you're gonna get the same results, in the same order. There's going to be a lot of opportunity in that, but the opportunity isn't for big brand kind of stuff.  It's gonna provide a good opportunity for your side projects.
Greg: Dust off your old stuff. Bing is very domain-focused. His test stuff in Bing is doing quite nicely, there's just no traffic. Yet.
Rand:  Go and verify your site with Bing's Webmaster Tools. It may do you some favor in the rankings just by having your site registered with them.
[Vanessa says she asked MSFT about this and they said it wasn't true. Rand says it is. They're fighting.]
Rand: Bing's market share compared with Yahoo will look like 30 percent but the traffic that leaves Bing and Yahoo for queries will be much lower than that.
I have a colleague who gets high rankings through all internal links – is that possible?
Jill: Depends on the competitiveness.  If it's not competitive, it's possible.
Once you do KW research, how do you find out what terms are most important?
Vanessa: Depends on your business goals. You want the right audience, not the biggest audience.