Over the past couple of months I've added several new tools to my Internet marketer's tool belt. Some of these tools aren't new, but they are new for me. Others are brand new, but they've already worked their way into my daily routine. I thought I'd give you a sneak peak into these recent additions and hopefully one or two will be new for you as well.
Internet marketing tools reviewed in this post include:
Firefox Quick Search Bookmarks
Do you use Firefox? Do you have Quick Search Bookmarks set up? If you answered no, then you need to stop everything you're doing and set these up RIGHT NOW. Seriously. I didn't take Rae's advice when she originally blogged about her Firefox Quick Searches over a year ago. It took becoming her partner to realize I couldn't hold my own in a Skype conversation and my ego couldn't take it. Rae talks fast, types fast and thinks fast. I can't fix the latter, but I knew I needed to be able to navigate searches as quickly as she did if we were going to do any more down and dirty Skype site reviews.
So, I grabbed her common bookmarks and set to work. All of my searches allow me to enter a keyword or domain and instantly navigate to the search results page. This saves an incredible amount of time when we're entrenched in client work or need to communicate quickly on a call.
I took Rae's bookmarks and expanded on them for ORM and social media.
Here are some of the more common searches I use: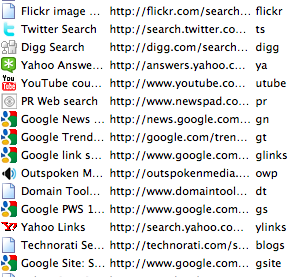 Twitter Search Happy
Twitter Search Sad
Twitter Search Question
Digg Popular Search
YouTube count search
>StumbleUpon Search
Delicious Search
Technorati Search
It's worth noting that I don't default to the basic search commands. For example, the default search for Digg would look like: http://digg.com/search in my saved quick search location. I always filter my search results to display the way I need to see them. When I first start working with a client, I want to know everything about their history on Digg, so I need the results wide open and I've customized my search command as: http://digg.com/search?s=%s&section=all&search-buried=1&type=all&area=all&sort=most (show me all sections, include buried stories, include all types of stories and sort by the most diggs).
However, I have a different search setup for when we're researching a particular keyword on Digg. I only want to see what worked with that phrase, so I've created a separate quick search that will only show me stories that were promoted and sorts by most diggs: http://digg.com/search?s=%s+%2Bp&sort=digg.
You're only limited by your creativity with these searches.
BuzzStream

Just before I took the stage at PubCon South to talk about managing your personal reputation, Jeremy Bencken, of BuzzStream passed me his business card and asked if I'd take a look at their new tool. I was a nervous wreck, so I said sure and then tossed the thought towards the back of my mind. Fortunately, Jeremy rocks and followed up as soon as the conference had ended. I then signed up for an account and instantly added the Buzzmark It shortcut to my bookmarks. It's a simple way to keep track of link acquisitions and was exactly what I needed. I remember buzzmarking a couple of sites, but contact information wasn't found, so I shelved my test until I could figure out what I was clearly doing wrong.
Several weeks passed and Jeremy followed up again. This time I took the Buzzmark It feature for another spin and it worked perfectly. I gave them a HUGE list of feedback and in a couple of days Jeremy had asked about dropping some of my comments in the BuzzStream Get Satisfaction queue, answered questions that just needed clarification and asked for details on some of my more obscure recommendations.
I'm still eagerly awaiting certain changes like an XML or CSV export of the link acquisitions and better agency support, but this is 100x better than what I had previously — my hands and an Excel spreadsheet. Fortunately, because of those Firefox Quick Searches, I'm pretty fast with the spreadsheet, but now I'll have something professionally managed that cuts out precious follow-up time. What impresses me most about the tool is the people behind it, Jeremy and BuzzStream Co-founder Paul May, have been incredibly responsive and thankful for suggestions.
Do you want to check out Buzzstream?
The guys gave us 50 private beta invites. I believe Search Engine Journal and Bruce Clay passed theirs out in record time, so listen up to secure yours!
*****
Follow OutspokenMedia on Twitter, then tweet:
@outspokenmedia I want more links! Thanks @buzzstream
We'll DM you access for as long as the invites hold out.
KnowEm

Several months back, Michael Streko and Barry Wise launched CheckUserNames.com and I instantly fell in love. My little ORM mind was ecstatic that they'd automated the tedious task of checking for username availability. This is step one in my ORM to-do list and it's now as simple as the click of a button.
Well, it just got better! As of Monday, Michael and Barry turned CheckUserNames.com into KnowEm.com, a service that can be used to check usernames and, "thwart social media identity theft". I'm sure the service will fall into the hands of some nefarious users, but for my purposes it's a godsend. I can now instantly check 120 social sites and, for a minimal cost, register my username across all of the open sites.
KnowEm has evolved into a social network in its own right with user profiles that you register and create for yourself. These appear to get indexed, have some solid content opportunities, let you include a link, your blog feed and Gravatar photos. In short, it's a new must-have for my Internet marketing tool belt and I'm proud to know at least one of the guys behind it.
Update Scanner



Wil Reynolds, the Founder of Think Seer, brought this tool up during our Technical Issues panel at IM Spring Break in April. I obsessively check my clients' sites when we're going through a redesign, doing technical work, building links, etc. However, there are times when clients make changes that I'm not kept in the loop on. Sometimes those changes can bring our work crashing down, but Wil let us know about this awesome Firefox plugin that can alert us whenever a site makes a change: Update Scanner. It's simple to use, very customizable, I can force a scan when I need it and it highlights the changes to the page. From what I can tell, it's a little hit or miss with the changes, but it's much better than hindsight.
Bonus: How to View Source Code on a BlackBerry
So this isn't really a tool, it's just something I needed in a pinch while my laptop spent four days on vacation in a Mac Genius shop. I needed to view the source of a Web page on my new Blackberry Curve, so I did what any Internet marketer would, I asked Twitter. More specifically, I tried to grab the attention of @BBgeeks who initially helped me decide on the Blackberry purchase. Within minutes I had a response! If you have a Blackberry, you can view source code by holding down the alt key and typing: R B V S.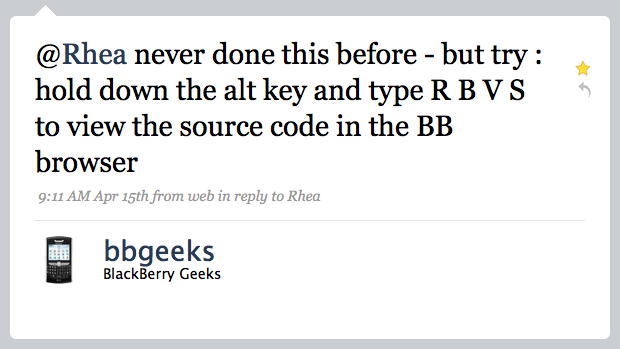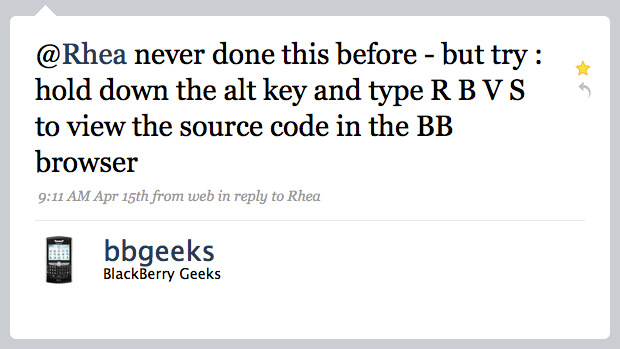 What? Seriously! I tried it and it works perfectly. Now I can do even more work on the road, in the bathroom and at brunch on Easter Sunday.
If you have a product that you think we should review, send it to us rhea [at] outspokenmedia.com.