In December I witnessed the beginning of an ugly reputation management situation while sitting on the couch in my PJs. I was watching Tabatha's Salon Takeover and for sixty minutes I got to capture the making of a small business brand disaster as Nikki Mallon of Brownes & Co. was portrayed on national TV as a heartless bitch. Whether those sixty minutes were scripted and edited or not, she made Rae look like an adorable puppy.
What follows is an online reputation management case study and some advice. Outspoken Media has no involvement with the brand, this is simply a look at SERP movement and Brownes & Co.'s reaction. If you are a small business owner, you will find actionable tips on what to do in the wake of a problem.

The Setup:
On Tabatha's Salon Takeover, Tabatha (an incredibly talented, bleach-blonde contestant from another Bravo show, Shear Genius) finds struggling salons and "takes over" for a week. She gives the owner and their employees guidance on how to turn the business around. This involves tips on marketing, management, services and a physical makeover of the interior.
The real reason to watch, Tabatha's a bitch! Like Simon Cowell on American Idol, we get to watch her tell it like it is. She will tell you that you are lazy, irresponsible and an asshole. It is fantastic! It is not just beat downs, people usually grow from the experience and I have cried during one episode. However, Tabatha sometimes runs into an individual who just doesn't get it.
Meet Nikki:
Nikki Mallon, owner of Brownes & Co. in Miami, a high-end salon with a perfect location, did not get it. Nikki wired the salon with cameras and would watch her employees from her computer at home. She sent commands through instant messages to the front desk and only visited the salon once every couple of weeks. When she did come into the salon the affect was obvious, everyone was on edge and resentful and she barked orders and complaints without any positive reinforcement.
Nikki's Audition Tape:
Tabatha vs Nikki:
The Backlash:
While watching the show, I got curious about everyone else's reaction when one employee said they needed a death certificate to prove she was attending her grandfather's funeral and another explained how she was told not to tell Nikki she had a child or she would be treated differently. I immediately searched Twitter and found: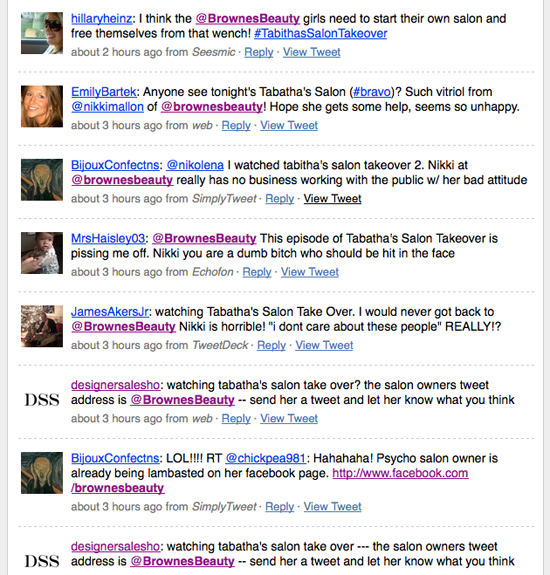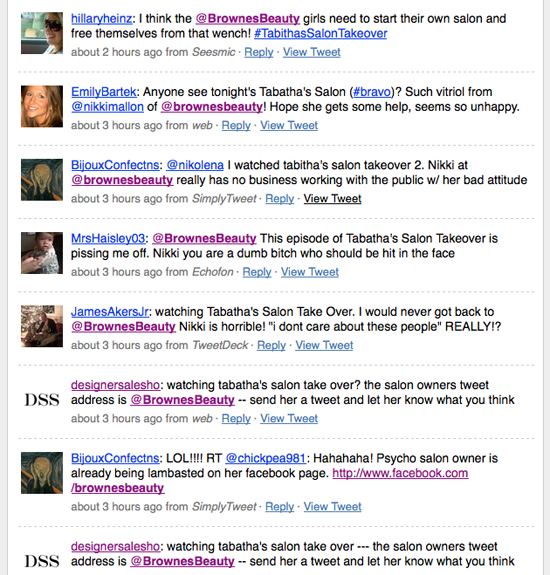 Someone had already found the Facebook page, so I paid Brownes & Co. a visit. What awaited was the beginning of what would quickly evolve into hundreds of livid comments: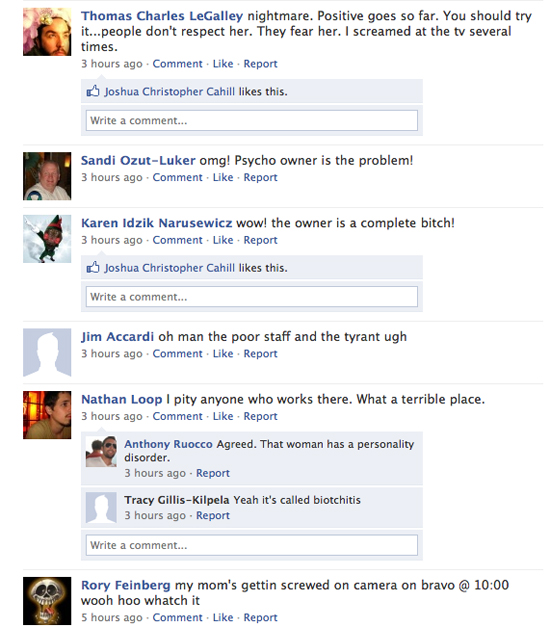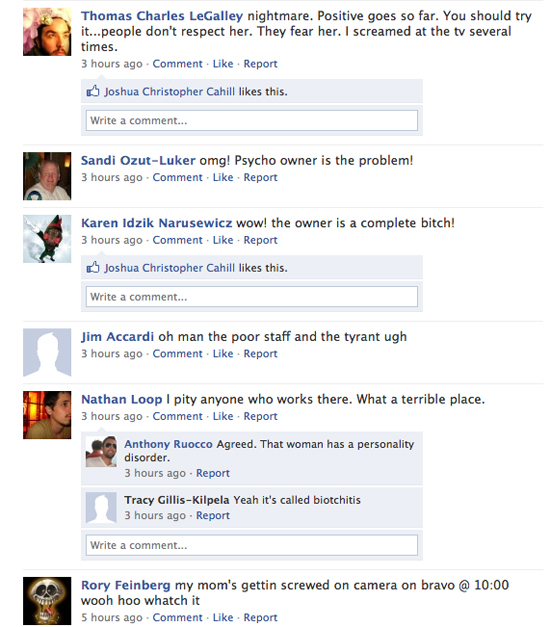 This was happening on Brownes & Co.'s own Facebook page! How was that possible? You only have to become a fan of a Facebook page before you can comment on it. Within hours the account, which allowed anyone to post to the wall had hundreds of new fans who only wanted to talk about how horrible Nikki was. This went on for at least twelve hours before an admin learned how to moderate comments. At one point an employee did jump into the mix, but she spoke broken English and acted defensive making the problem much worse: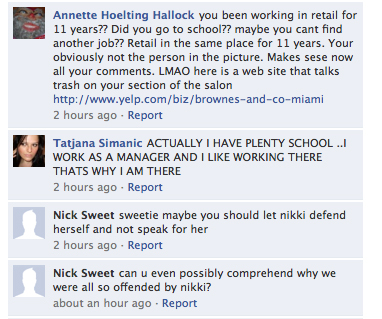 The next morning, many of the Facebook comments had finally been removed and someone was now heavily moderating the page: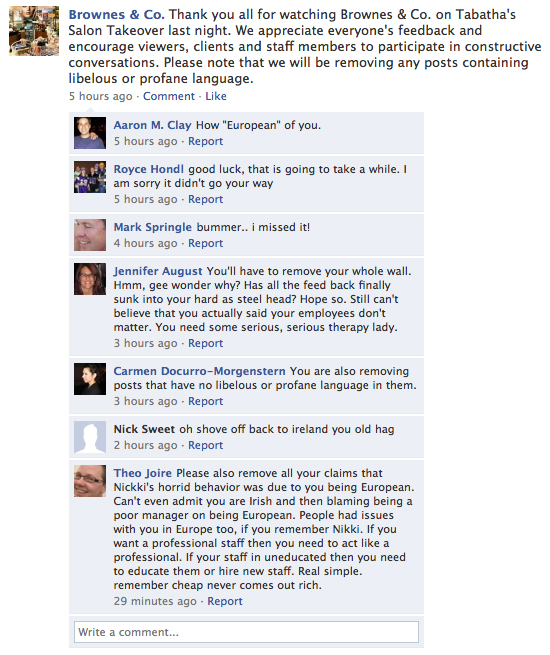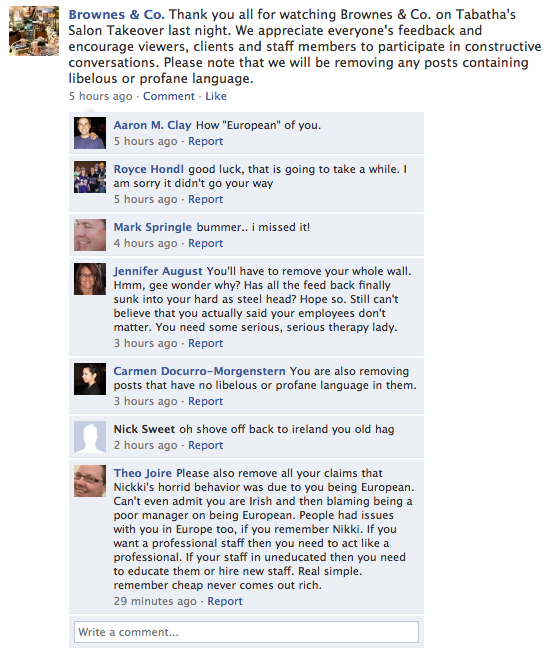 When I checked the search results for [brownes and co] Yelp was the only real social site ranking in the top ten, so I visited the Miami listing to see if that was taking a hit as well. It was:

It was not immediate, but Yelp did eventually get around to removing reviews from users that had not actually visited the salon. This was prompted by the Yelp community itself, which had a conversation about the show and those negative reviews. That night, Brownes & Co. had 44 reviews and two stars, today it has 23 reviews and three stars. Not much better, but at least it's more natural.
In addition to Yelp, Facebook and Twitter, the virtual lynch mob hit sites like Citysearch and Craigslist: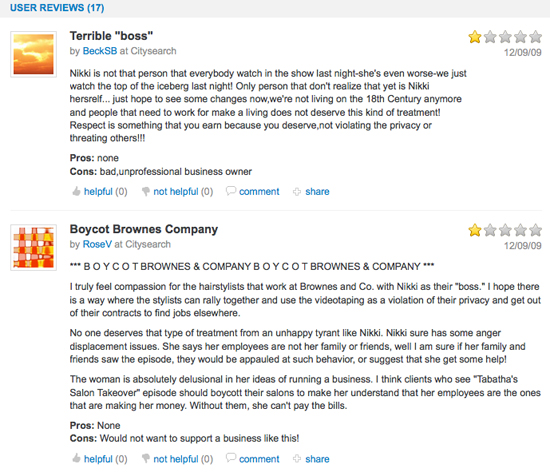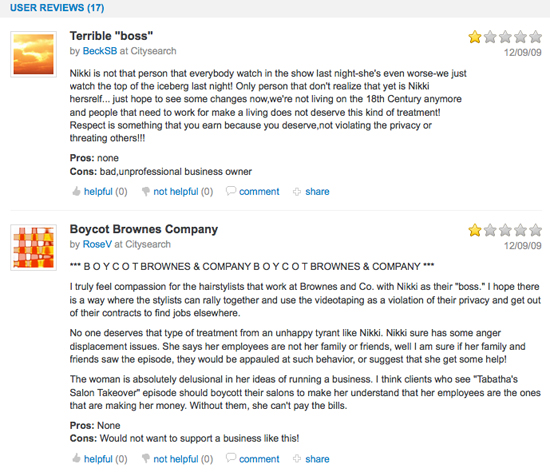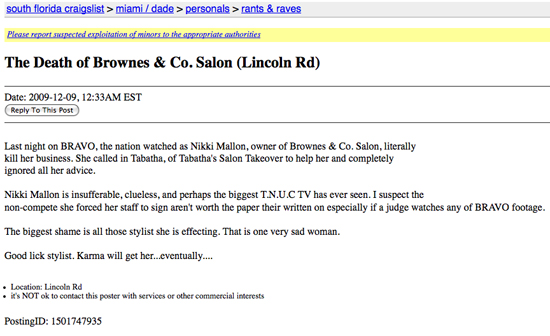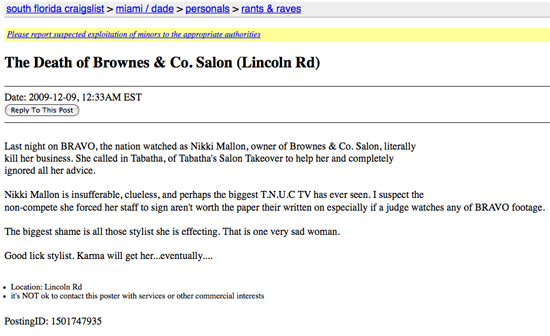 The Search Results:
Watching all of this unfold was fascinating, but I was most interested in the search results. I wanted to see how things would shake out over the next 24 hours, week, month, etc. If you do a search for [brownes and co] today on Google, the suggested searches are not nearly as bad as I had projected, but the results listed for each have countless mentions of the show and Nikki: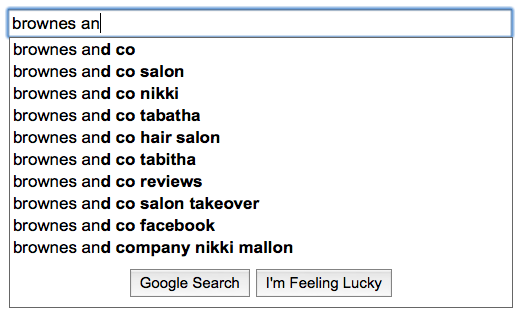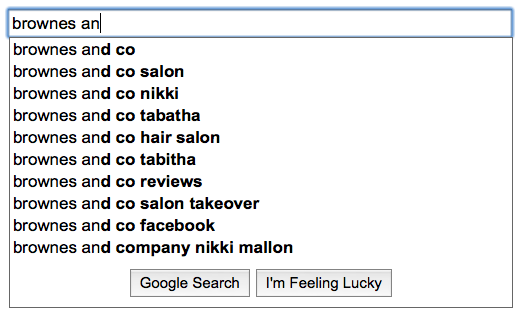 As for the SERPs for just [brownes and co] on Google, the day of the show they looked like:
POSITIVE – BrownesBeauty.com
POSITIVE – BrownesBeauty.com/about.phtml
POSITIVE – MiamiBeach411.com listing
POSITIVE – Google Local Business listing
POSITIVE – Fodors.com listing
POSITIVE – Timeout.com listing
POSITIVE – Frommers.com listing
MIXED – Yelp.com and indent
POSITIVE – MiamiDesignDistrict.net and indent
NEGATIVE – NotforTourists.com
Those results did not change much over 24 hours and even two weeks in there were still only moderate changes. It was not until January that I really saw a change in the brand-owned and negative listings. Today's results look like:
POSITIVE – BrownesBeauty.com
POSITIVE – BrownesBeauty.com/salon.phtml
MIXED – Yelp.com and indent
MIXED – Google Local Listing
POSITIVE – Facebook.com
NEGATIVE – BravoTV.com
NEGATIVE – RealityTVMagazine.SheKnows.com
POSITIVE – Twitter.com/BrownesBeauty
NEGATIVE – Boards.BravoTV.com
MIXED – Miami.Citysearch.com
Lessons learned:
Monitor Your Brand. Brownes & Co. was not actively monitoring or engaged with their brand when the proverbial shit hit the fan. This could not have been a surprise, Bravo teased how horrible Nikki was for more than a week! It took 24 hours before someone tried to rescue the brand. They started monitoring their social profiles, responding to complaints and posting positive mentions like upcoming sales and specials.
The brand did not publicly address Nikki's behavior (to my knowledge), but more competent employees than the angry Yugoslavian bunny started defending the business. They took pride in their work and were thankful for a job in this economy. That was enough to calm to the flames. Monitor your brand and jump into the conversation before it escalates.
Put Your Best Face Forward. Nikki Mallon used to have a Twitter account. That's gone now and with good reason. Whether she actually is or not, Nikki was the villain of this situation and she proved repeatedly that she did not have empathy or respect for her employees. She should never have been its voice nor gone on public television with that attitude. Separating her from the business was necessary.
It may take years to recover from the damage done by her reputation, but there are dozens of good employees that work with Brownes & Co. who can salvage the business by simply doing good work and communicating effectively with their customers. Find that special person within your business who can effectively communicate your brand and then let them shine. Thanks for making us look awesome, Lisa!
You control your properties. Brownes & Co. already owned their Facebook page and Twitter account. You could argue that owning those social profiles invited a social reaction, but I assure you they would have gotten the reaction regardless. Having already established social profiles made it easier for them to bounce back and control their brand in the long run.
Register your domain and username, optimize your social profiles and learn how to effectively manage comments and privacy settings. If you need help with the basics, the reputation management guide is a great place to start.
You do not control review sites. No matter how badly you want a review removed, it is unlikely to happen unless that review breaks the Web site's guidelines. In the Brownes & Co. situation, users broke several Yelp guidelines (not having first hand experience, not being relevant and personal attacks), so many of those were removed. Unfortunately, if those users had actually visited the shop there would be no recourse for removal. In those situations, you need to know how to respond to complaints, as well as, how to respond to positive reviews and when to respond publicly.
Brownes & Co. learned from their experience. Regardless of the search results, their doors are still open, which is a victory in itself!