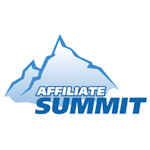 Stay with me, guys! We have one more session to close out Day 2 of Affiliate Summit.  But don't worry, we'll back tomorrow with more coverage than you can shake a stick out…whatever in the world that means.
Right now we have Matt Mickiewicz who's going to talk a bit about crowdsourcing and how you can use it to grow your business. Ready to go?
Since 1995 Paul Johnson has been asking his students to guess who will win the Oscars in 12 categories. The average student gets 5 predictions right. The average for the class is 11 out of 12 right. He says there's a very powerful force around consensus. Even if one person doesn't know the right answer, collectively the pool of people typically do. The Ask The Audience option on Who Wants To Be A Millionaire has a 91 percent success rate, much higher than Phone a Friend.  There you have it, proof your friends are smarter than your father.
4 Pillars of Crowdsourcing
Diversity of opinion/knowledge/skill
Independence
Aggregation: Wikis, marketplaces, etc
Decentralized: Global is better than local
Landing Page Optimization – 5 Second Test
Get quick feedback on your landing page designs. Do your calls to action stand out? Get people to click on "hot spots". Can visitors understand what the site is about? Give viewers a memory test: what can they remember about the landing page?
PPC Management – Trada
Turn over PPC Management to a group of AdWords Qualified Professionals
Experts work to your metrics: CTR or CPA
They create keywords, ad groups and write ad copy
On average, you get 24 people working on your account, 110 ads, 6500+ keywords
Covers AdWords, Yahoo & Bing
Crowdsourced AdWords CTR Improvement
BoostCTR.com allows you to get experts competing to write the best AdWords ad copy for you.
Boost clickthrough rates, quality scare and lower your CPC
$99 per ad group with guaranteed improvement
Product Development – Quirky
Crowdsourced product development
Submit new ideas for products or influence products currently in development and earn cold, hard cash.
VitaminWater, Dell IdeaStorm & Doritos
VitaminWater developed new flavours and promoted themselves via FB app.
Dell's IdeaStorm has resulted in the company going carbon-neutral, selling ink in retail and more
Doritos – #1 Superbowl ad in Youtube in 2006
How can we apply those ideas as marketers?
UserVoice: Every person who submits an idea on the site gets 10 tokens. They then use those token to vote on the best ideas.  You get to prioritize development of new ideas. [I like that one!]  As a result of UserVoice, he's been able to double his revenue by listening to what the designers and developers in their community wanted.  You need a big enough sample size for this to be effective.  Make sure you drive traffic to it.
Crowdsource your naming 7 Brand: iPhone Developer paid &27.50 via Amazon Mechanical Turk for 500 responses and came out choosing iReadFast.   But beware: Kraft tried to crowdsource the name of their Vegemite product and they came up with isnack 2.0…the product was later canned.
Develop your Web site or software: TopCoder.com allows you to get concepts, user-interface prototypes, debugging, project specifications, algorithms, and more sourced via global competitions to 250,000 coders.
Find JV Partners: Jigsaw.com is a massive crowdsourced database of contact information. Find email addresses and phone numbers of those hard to reach JV partners.  To get a number out you have to put two in.  Anyone you could ever want to contact is listed there.
Crowdsourced banner design: Ad creative can make or break your media buy.  Run a global competition and get hundreds of designs to choose from. Buy as many (or as few) designs as you want.  Don't just pay for the "prettiest" banner.  Get a bunch of different designs that you can test to see which convert the best.
Crowdsourced landing page design: Many "design contest" marketplaces allow you to buy the rights to use multiple concepts. Announce "multiple winners" to boost participation. Fantastic way to get out of the box ideas from a global pool of designers, each with their perspective.
Crowdsourced video: GenuisRocket.com allows you to crowdsource videos for as little as 3500.  Normally it's 20k.
5 Principles of Successful Crowdsourcing
You Reap What You Sow: Clearly identify what you're asking people to do. Provide them with enough guidance to meet your criteria.
Tight Deadlines Work: Can be incredibly motivating. People like to see fast winners.
Don't be a douchebag: Designers thrive on feedback and recognition. Make sure you're staying involved and giving them the feedback they need.
Keep it simple, stupid: Be realistic in your expectations about what the crowd can do.  Keep requirements down to 1 to 2 pages so people can read it and decide if they want to get involved.
Don't be Scrooge: Offer more than the minimum.  When you're crowdsourcing you have to offer more money.