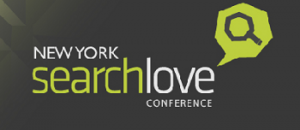 Ah, apparently, SearchLove saved the best for last—content! Okay, so I may be a little biased. I have to admit, I'm also really stoked about hearing Wil Reynolds speak for the first time. I've heard he's a fantastic speaker. [No pressure, Wil! ;-)] But I'm also really looking forward to this session because the discussion about content marketing has been pretty hot lately, and I'm interested to hear Wil's take on it, and I bet you are, too. Let's listen in.

Wil starts out by saying that usually he talks solely about link building, but when he went to MozCon last year, someone got him fired up about content, so he started to delve deeper into it.
He asks who listened to his most recent webinars so he doesn't cover material again. The majority haven't, so he's going to cover everything for us. Yay!
He shows us a graph of blog posts that got at least ten retweets in the last year. There's a high percentage of links with branded anchor text. It's natural. None of this is rocket science.
Google says just build good content, but we're building brands. People are linking to you with your brand name, so Google can see that and give those pages authority.
But the percentage of links with the word "SEO" in the anchor text is much lower.
Who do you think is ranking better? The people who get the anchor text over and over again. You have to be honest enough with yourself that using branding just doesn't work sometimes.
If you search for "SEO content," the first four companies ranking for it are crap. Two of them don't even have blogs. One has written two posts since 2010. Crap companies are outranking the better companies for SEO content.
Feedburner
Google has owned Feedburner for five years now. Feedburner's been around for seven. There's seven years' worth of data. More people are subscribing, but that data is not being used.
Google Reader also has a lot of user data. Google owns this data. A smaller, crappy site is still beating SEER Interactive for some of its targeted keywords. Google can see how often you click, which blogs you read, etc., and they've had it for five years. Even though Google can see all this data, it's not affecting your ranking. It doesn't impact the SERPs.
Will says all of you spending a lot of time on Google Plus and Twitter, it's not going to work for you. Sorry to be all doom and gloom, but he's just being honest. This is explained much more thoroughly in a blog post.
Will says if we're here to actually teach people how to rank better, he can't tell you to do social without telling you these things, or it'd be bullshit. [Nothing like someone who tells it like it is.]
He's not here to talk about concepts, philosophy, or himself. He's here to get you actually doing something. Don't be a cheerleader—implement. Do something. If you tweet this session was great, he's going to follow up with you in three months and ask you if you actually did anything in the session. [You've been warned!]
You have links under your nose you're not using. How can you get links quickly?
Wil got an email from WordPress saying there were broken links on his site. But that was SO last week. He got another e-mail yesterday that showed more broken links, some from Distilled. But what if you're not friends/friendly with the incoming site?
He checked SEOmoz to see who's linking. Didn't find SEER. Then checked Majestic. Didn't have to do anything to find it but install a WP plugin. The broken links are going to be either blog posts or comments. Who's leaving comments on his site? Other SEOs.
The trick is, some people link, and then forget about them. They let their sites expire and die. Once you find those broken links, those are opportunities to take over those sites, and capture those links. Maybe that doesn't sound so nice. So instead you can…
…go back to the post, contact the people who have broken links, and let them know. This also gives you an in with people you want favors from. It's much more about what can I do to help you out?
Link out to industry people regularly, then use this tool to find when links are broken.
Wil says before you do anything else, install this plugin, and within hours, you'll get e-mails that will tell you where your broken links are. Every time you get an e-mail, it's an opportunity.
He asks if anyone has a BIG competitor that's tough to beat? [Several hands go up] They're not easy to beat, but big brands forget promotions all the time. They're doing so much stuff, they can't keep track of it.
It's important to remember that big brands aren't agile. They sometimes do stupid stuff because of politics. They build microsites all the time. When you work with large clients, you can build microsites and get around what they can't build on their domain. Launching infographics is HARD. They build all these separate sites, and then forget about them, so you can take advantage later. They leave all kinds of free stuff in their wake, and there are tools to take advantage of what they leave behind.
Reverse IP Domain Check
Some companies don't pull the content down after a promotion is over. The "billboard" is done, so they get rid of it. They put marketing muscle behind that, so there's stil value. This tool alerts you when the client forgets about a microsite they built.
Wil tried blekko for data collection before, but couldn't get it to work, so if anyone has any ideas, let him know.
How to Come Up With Content Ideas
Google's products give different suggestions. Use Google Suggest because it's so quick to get ideas for content. When doing ecommerce, use regular suggest vs. product suggest to get different results; used running shoes as an example, and got completely different results. He doesn't know which one's right or wrong, but it's an interesting way to get content ideas.
If you want to be really happy, and you're in a business where industry trends change, people are always looking for content current; Wil says to put a freaking year in the title and in the title tag, and watch the traffic roll in.
Social research to build content
RIP PostRank. Wil misses PostRank. It made his life easy because it showed the most popular posts and shares, etc., for whatever site you were researching. Google bought it and didn't use the data to improve the algo, so it's gone. Worthless.
Luckily, Topsy came to the rescue. Type in the name of the company, and it shows shares, pulls in title tag of links in your tweets. You can find tweets that don't have your KW, and see influential people who are sharing your content. It will tell you what kind of content is being consistently socially shared.
Get the best guest blog opportunities
Your outreach needs to sound like this: "I see your audience seems to go crazy for content xyz, and it typically gets x shares. So I thought I'd write in that vein. I've attached…"
Infographics
The common feeling is that infographics are SO 2009, and in some ways they are. So make your infographics fail-proof. Here's how:
Have a marketing plan
Find long posts; Long posts suck. Get to the point. But people comment, tweet, and link to long posts; reach out to those people to publish your infographics
Pay a major player to publish your infographic
Wil wants to know how many people are thinking that last tip is black hat? His response is, "Oh really, fool?!" Bloomberg, Forbes, WSJ, BusinessWeek all accept payment to publish content, so let's see Google take them out of the index. Look at their sites. You'll see content that looks like an article, but says advertisement at the top. Still think it's black hat? Anyone? It's just called advertising, and it's been going on for years.
Use google image search
After you launch the infographic, you'll find all the sites that put it up but didn't link back; find them, contact them, ask for the link
Quick Tip:
We all want to get original infographics done, and we're all trying to get it done cheaply. Designers will sometimes copy other infographics and give them to you because you never saw the original. Next time you get an infographic from your designer, drop it into Google image search first so you don't pay for something that's been copied. Stop getting ripped off.
Use .gov Sites as Sources
.gov sites spend thousands of dollars to compile bulleted data points. Turn them into infographics; link to .gov as a source; check how many have linked to it; then send the infographic to those people.
Another tip: .gov PEW charitable trusts foundations pay for huge research reports; turn them into infographics. Foundations spend all this money on these reports, and never think about how to provide the info in a quick, easy way.
Wil asks who are the people in your neighborhood? He's doing Muppet impressions, namely Bert and Ernie. You guys are totally missing out if you're not here. If I could translate it to print, I would. He goes over some tools for outreach.
Export.ly
You invest a lot of time in writing content. That alone won't get you links, but it will get you followers, and with followers, you get twitter bios.
Normal people have under 10K followers. Export.ly will allow you to import all your followers into an Excel spreadsheet. That's good, but the format is tough to follow. What you do is drop it into a tag cloud (you can also do this with a competitor), and it will show you words people use in their bios. It's free.
Quora
Will Critchlow got Wil thinking about Quora in a different way. Follow journalists—not an advanced tip, but smart as hell, and right under your nose. Then look at their Quora rss feed urls. You can subscribe to the things people answer, and it's a sure bet that whatever they're answering is topics they're passionate about. Add the rss feeds into iGoogle, and the info will be immediately available to you whenever you sign in.
Look for content vs ranking mismatches
He searched for a hardwood floor cost calculator. First few results don't even have the calculator visible. The good calculator is ranking at the bottom of second page because they didn't do keyword research and include the right keywords.
Leverage community
In e-commerce, every transaction sends a receipt. Make a customer's wish come true with the receipt. Post a giveaway "exclusive." Tell customers to go to your site, pick five of things they like, and post about them in their blogs. Then every month, you give away one or more of those things. You'll get hundreds of free links. Tell them they have to link so their entry can be counted. This will:
Build product-level links
Get them to socially promote it
Get you lots of links, and maybe even a raise!
If you're whining that you don't have an e-commerce site, Wil says to quit yer bitchin'! Either get a new job, or find a new way to hustle. Find other ways to reach out. THINK!
The content is out there. You can get other people to do it. They've already done it. Long posts, broken links; go find it.
As expected, Wil did NOT disappoint. Now let's get to work!