Finding a SEO company can be hard work! The process of hiring a SEO vendor or consultant in a sea of spam and fake merits has to be exhausting and who has money to gamble with? The SEO industry as a whole doesn't make it any easier by perpetuating a very real reputation management problem through pay-to-play "Best SEO Company" lists. This post is a word of warning with actionable steps on how to choose a SEO company that's right for you and builds a long-term, trusting relationship.
Before we get to the actionable stuff, I have three reasons for writing this today:
Outspoken Media recently went through a SEO audit RFP process in which one of the other vendors was a "Top 20 SEO." We didn't consider the other firm a direct competitor, so this was intriguing to say the least. What they did have was a badge on their homepage that proudly stated they were a TopSEO! In this situation, we weren't a good fit for the client regardless of the badge, but the situation really bothered me. Rather than diving into a tirade on TopSEOs, I'll let Aaron Wall explain why TopSEOs is a scam.
Within a few days of that situation, Jill Whalen was solicited for inclusion in a paid list of the "top search engine marketing firms" from the International Business Times. Here's the email she received:The IBTimes list of top SEO companies was just published here.
The last nail in the writing of this post came from the Inc.com application process for their list of Top 500 Advertising and Marketing companies. To be considered, you manually apply hereas long as you meet their minimum criteria:


– at least $2 million in revenue in 2011 and
– at least $100,000 in revenue in 2008.

I don't think Inc.com's list has a shady set of criteria–they're looking for established, sizable SEO companies. That's great, but I only saw a couple recognizable SEO firms on the list, which tells me most of the companies we respect aren't listed (even though they meet the criteria) and highly qualified individual SEO consultants are excluded due to size restrictions.
I decided to take a look at five top SEO company lists and compare them. The results were interesting: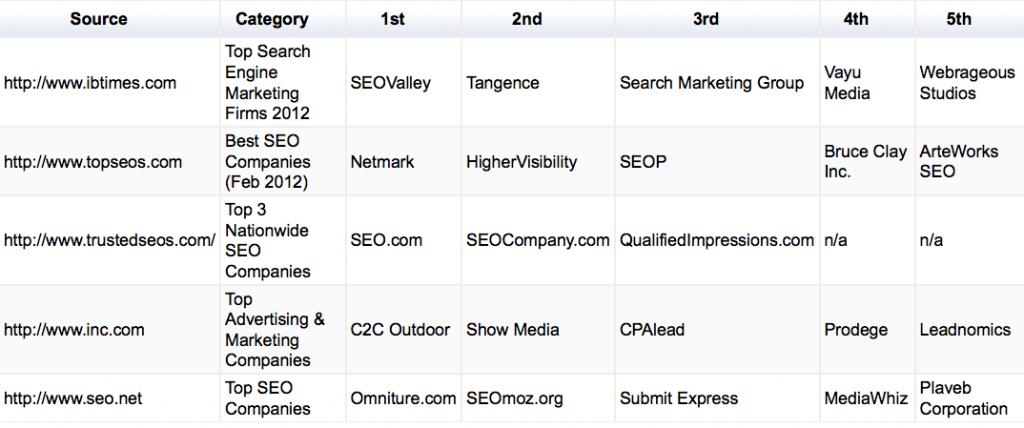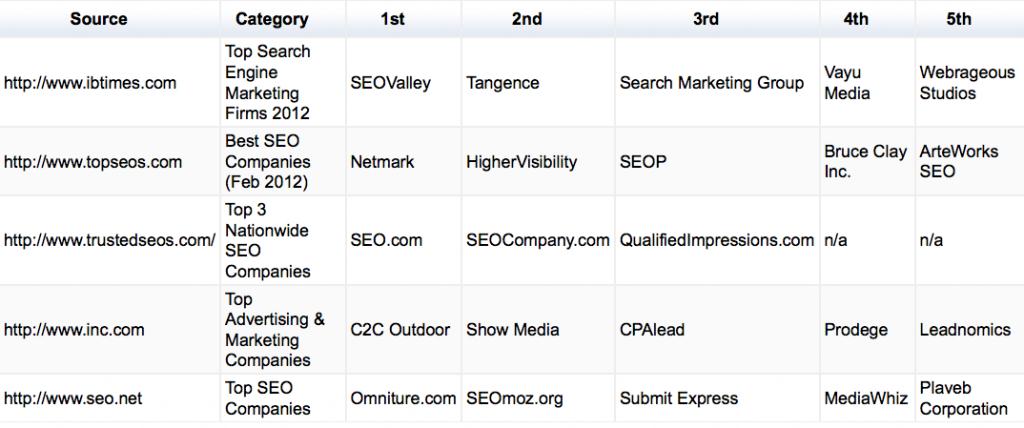 Not a single SEO agency appeared on more than one list and I've never head of most of them. Now, this doesn't mean those firms don't provide great service, but I've been in this industry for seven years and own my own SEO company in which we've done extensive competitive research. I have to think that if these are the best SEO companies, I would recognize more of them.
What value do these lists provide when so many require paid inclusion or they are limited by the reach of their community and brand?
I personally see little to no value in these lists for someone who is trying to find a SEO agency with which to partner. Maybe I'm wrong and if you believe that I am, please tell me why in the comments.
The question remains–how to choose a SEO agency?
First, ignore the "TOP SEO, OMG I'M AWESOME, BECAUSE I PAID FOR THIS AND BELONG TO THIS COMMUNITY!" lists. The same goes for the banners on their sites, because we know those help convert customers regardless of merit or criteria. I hate to point out the obvious, but sometimes, we're really stupid when it comes to the Internet and there is a generational and digital divide that puts certain researchers at an immediate disadvantage.
Second, look into more quantifiable and qualitative signals that can help you make a choice about the SEO company that is right for you. These might include things like:
Request case studies and contacts from like industries/site size to ensure they can handle your work
Testimonials (if these aren't published, ask for them, it may simply be that the SEO company has NDAs that protect their clients — like Outspoken Media does!)
Talk to their current clients
Along the same lines, if they display client logos, call them
Google them and check out their online reputation
Look at how the site is written and identify warnings (e.g. big guarantees or language that sounds too good to be true)
Check the site's own rankings, community engagement, backlink count and domain authority, etc.
Check industry visibility
Ask for their methods
Question their ethics for grey areas to see if they align with your needs
Question their tool set (Does it sound outdated? If it's proprietary, do they keep the data if you leave? Can they report on what you need?)
For more guidance on how to choose a SEO company, Google also has warnings and questions to ask here. Rand Fishkin published some great tips on how to choose a vendor here. And, Stephan Spencer outlined the SEO RFP process here on Search Engine Land.
If you're responsible for the RFP, remember:
Take advantage of the preliminary call to get a feel for the SEO company's values and communication style. Does it work with yours?
And, always be honest with the agency prior to their work on a proposal. E.g., don't hide your budget/needs, because time may be wasted if that's a deal-breaker on either side.
In summary–SEO buyer beware. Do your due diligence when shopping around for an Internet marketing company and make sure the SEO you choose is going to be transparent about their methods and abilities. Happy shopping!