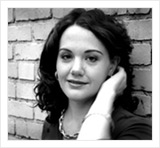 So, we have a little treat for you today. Yesterday, I gave you Outspoken's speaking and blogging schedule for SES NY, which will be happening live from NYC all next week. Today, we're going to tease and taunt you a bit with a sneak preview of what you'll hear at the show. And to help me do that, I have a great interview with Rank-Mobile founder Cindy Krum.
Cindy is a well-known mobile marketing evangelist so it was really a treat to get to pick her brain about the state of mobile applications. With reports indicating that mobile apps will become a $1.5 billion market by 2010, it seems like now is a pretty good time to learn more about them and how you can incorporate them into your marketing efforts.
Check out my interview with Cindy.
Hey Cindy! Thanks so much for taking the time to chat. More and more all our favorite Web sites are becoming mobile applications. How can business owners take advantage of some of the mobile apps that are already out there, like FourSquare, Gowalla, Yelp, etc? Which ones are worth playing with and which should just be avoided?
Companies should research applications in their niche. Local search applications like Yelp and UrbanSpoon are very popular, and they are taking traffic from Google Mobile. These local search applications all work a bit differently so you will have to research them separately. In most cases they are pulling and re-mixing results from a variety of search engines, in a process called daisy-chaining. In many cases you can also submit your listing directly to the applications website or through the application. In many cases, star rankings or the sentiment of the reviews are given more weight in these search applications.
The good news is that these listings will frequently also show up in traditional searches too. I have seen all the major local search applications show results in normal online local searches, so this is actually a mobile strategy that can help your traditional web results. Work with any top ranking application that is applicable to your business. You can just look at the reviews to see if people are finding it useful, or if it has problems that make it not worth your time.
There are search engines that go beyond just location-based search. Job search, music search, vendor search and product search are also quite common. Take the top keywords for your website and put them into the application market places to see what comes up. You might be surprised to see what is there!
So, what kind of budget is required for a business looking to create a mobile app? Can small business owners get in on the craze or if this something only the big dogs can play with?
Most applications require budget and lead time, but the price tag is quite variable based on the intricacy of the application. In some cases, you can quickly submit a simple RSS feed into template and submit that, but it is always better to provide some type of interactivity beyond just the feed. When you are thinking about budget, you should also consider the possibility of monetization. If you are offering a free application then it is generally ok to include advertising in the application, and this will help defray the cost. 'Free' and 'cheap' are the two most searched keywords in the AppStore, so even if you want to charge for your application, it is a good idea to also offer a limited or 'lite' version for free, so that people find it and can test it out.
If your application is a novelty, like iBeer, or other downloads that quickly lose their appeal, it is not advisable to spend lots of money on an application. Think of these as quick-hits that will be cool today, and might get a lot of buzz, but will not have the staying power to really provide customers long-term value. Alternately, if you think your application will provide a serious value-add to your primary business model or actually increase your customer base, then it is fine to spend more.
Branded applications like an account management app from your bank should generally be offered for free; this is true unless they provide a high level of utility like the CNN application. Whatever you do, be sure to save some of your budget for promoting the application. Even cool apps don't promote themselves, and in many cases, the coolest applications are so unique that no one would think to search for them. You can direct PPC and display advertising (mobile and traditional) directly to your application. Work with bloggers to get revises and links to the application, and promote it on the home page of your website. Offline advertising for apps is becoming much more common, so if it is in the budget, include print, outdoors and even TV and radio spots to help drive downloads.
What makes a mobile app"sticky" enough that people will not only download it, but continue to use it on a regular basis?
The best applications have the following 5 attributes:
Viral elements or integration with social networks. FourSquare is a great example of this because it integrates with Twitter and Facebook. This will ensure that the widest audience possible is exposed to your application quickly.
Utility -Banking applications, tip calculators, and search programs are some of the most commonly downloaded applications out there. When you are planning an application, ask yourself "how does my application actually help the person who downloads it?" Does it give access to quick information that would otherwise take longer to find like a currency conversion application? Does it let you interact with friends or does it just provide entertainment?
Fun or novel– UrbanSpoon is one of the top downloaded applications, but when you think about it, it is just a local search engine that added a bit of fun and good graphics to the search experience.
Interactive or customizable – People download applications to customize the capability of their phone, so the more you allow them to personalize the application, the more they will use it.
Unique – There are a lot of copy-cats in the application marketplaces, but that is generally a losing strategy. Figure out what is not working in the existing applications and do something better. See what is being done in top ranked applications and try to emulate relevant functionality, or check out what gaming applications are doing then try to integrate functions that make the application more like a game. Think about the functionality of the phones you are targeting, and challenge your team to find a good reason to integrate one extra function on the phone like the speakers, the camera or the accelerometers.
When deciding about what kind of app to build, is it better to go with a branded or non-branded mobile app? Are customers more likely to download/use an app that appears to be simply useful, rather than branded?
I think branded apps are easier to get noticed, because your existing customer base will know to search by your brand name to see if you have an app, and might even do it without external prompting. Branded apps are a bit like chain restaurants – you can expect a certain level of quality out of the gate, but in many cases, the creativity may be lacking. Unbranded apps like Shazam are frequently more creative, but they have to be promoted more because there is not an existing customer base to pull from. With an unbranded app you are starting from scratch, and in a lot of ways it is like starting a small business. You have to have a solid marketing and retention plan.
Based on what you've seen, what's in store mobile apps in 2010 and beyond? Where should business owners, and users, be looking?
For a long time the AppStore is where it is at, but I am telling people to get in early with the Android Marketplace and Google's new app marketplace, Campfire. There will be 90 new Android handsets launching world-wide this year, and they won't be tied to a specific carrier, or a single handset. These handsets will reach a lot of different price points as well as different types of customers who are not interested in getting an iPhone. That is really powerful, and I believe they will give the iPhone a run for its money. If you get in early the market place will be less crowded, and there will be more opportunities to create buzz for your application than there will be later, when there are more competitors there.
Thanks again to Cindy for taking time out of her extremely busy schedule to chat with me. If you're heading down to SESNY next week, you can catch her speaking on Tuesday's Augmented Reality: It's a Brave New World panel.