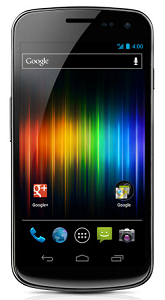 Two weeks ago I did something no one imagined I'd ever actually do – I ditched my beloved (but rarely functional) Blackberry Bold and upgraded to a Samsung Galaxy Nexus. Because my transition into smartphone adulthood happened so close to my trip out to San Jose for SMX West (check out our liveblogging coverage here), it served as a great opportunity to dive into the world of apps and see what was out there to serve me with the tools I needed to be productive.
Below are a good selection of the apps I immediately clung to for support. They're the ones that allowed me to travel smarter and more efficiently on my most recent trip. I'd love to get your opinion on the apps most essential to you being productive on the road.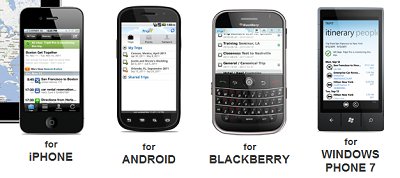 TripIt is our mobile trip planner app of choice thanks to a great recommendation from Michelle, our Operations Manager. TripIt allows us to import all our travel data (flights, hotels, meetings, etc), parses the data, and then creates an easy-to-read itinerary that we can share throughout the office. Because so much of the Outspoken Media team is frequently traveling, this is a great way for us to keep tabs on not only our details, everyone else's. The free version does a pretty good job giving you in the information you need, but by upgrading to TripIt Pro, you'll be alerted to flight changes, gate changes, fare refunds, points information and more. With conferences always involving multiple flights, dinners, appointments and meeting, having one app to help you handle it is pretty invaluable. It also means I save way less time manually typing all of this information into my phone.
Shut up. You do it too!
2. Airline Flight Trackers
Whatever airline you routinely fly (or whichever you got stuck on for this trip), you're going to want to download your specific flight tracker to help you manage your flight information while on the go. Is there anything you can really do if your flight has been delayed? No. But having that information before everyone else and knowing what gate you were switched to can be really helpful in avoid mid-airport meltdowns. Not that I have any experience with that. At all. I'm an expert traveler.
I became pretty addicted to my Fly Delta application during my trip to San Jose, obsessively checking travel information, gate changes, and occasionally changing my seat to ensure I had a window to nap on during our cross country, two-layover red eye. Traveling can suck, but equipping yourself with all the information you need for a successful voyage can really go a long way to make it suck less.
Oh, and if you're traveling via train not plane, it's worth noting that Amtrak has a great mobile app that allows you to buy tickets and access your itinerary on the fly. Isn't living in the future great?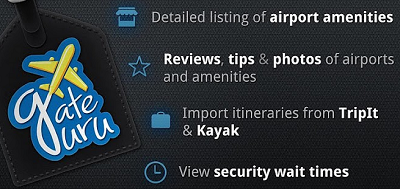 There's nothing scarier to me than flying into an airport that I'm unfamiliar with. Just like with the Delta app I mentioned above, I like *knowing* things. The more information I have, the calmer I am. Gate Guru helps keep me calm by immediately introducing me to my surroundings and acting as my eyes on the ground before I even get there. Sure, it's cool that this app will give me airport maps so I know where my terminal is in relation to everything else, but that's not why I really like it. Gate Guru is sort of like a Yelp, but specifically for airports. It provides tips and reviews from other travelers so you can learn the best places to eat within your terminal, where the cleanest bathrooms are, and even gives you approximate wait times for security. Essentially, this app keeps me from having a nervous breakdown at least three times a trip.
4. Harvest Time Tracker [iPhone, Android]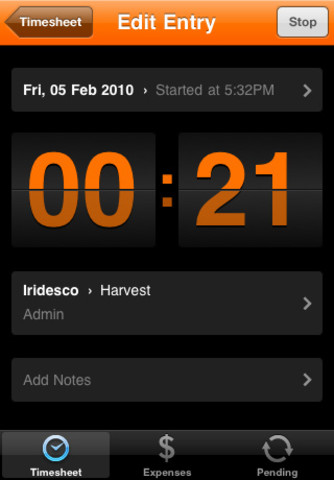 Okay, so it's not all just flights, clean bathrooms, and traveling that you have to worry about while on the road. You also have to keep on top of little things like, I don't know, your work. Harvest is on our resident time tracking app that we use in the office to help us analyze how we're spending our time and making sure we're accountable to our clients. That means downloading the mobile app was pretty much a no-brainer for me when I discovered that one existed. I've heard some people say they experienced "freezing" when they tried to switch between tasks, but I haven't had any. Everything I've entered on the mobile version properly synced to the desktop version. However, that's about all I could do with it. If there is a way to submit your time sheet, I couldn't find it. Still, if you use the desktop version of Harvest, this mobile app integrates pretty nicely. It's not perfect, but it'll do on the road.
As my OCD-tendencies may lead you to believe, I'm a big note taker. Whether it's notes related to my itinerary or something I want to check out more indepth later, I leave notes for myself everywhere. With Evernote, I only have to leave them one place. Right here. I also really like that with Evernote, I can take quick pictures of business cards, vendor information, exhibit hall booths, and other promotional material and then search for it later when I'm ready to actually do something with it. Evernote saves me times and makes me a genius by remembering everything I don't have the time or mental capacity to remember.
Worth noting: I'm also a Skitch [iPad, Android] user, which allows me to markup information or to draw things when I'm having a difficult time verbally expressing what I need.
You're on the road. But your team probably isn't. Skype is the glue that will help you keep it all together. Whether you need to make phone calls on the cheap (or for free~) or you just want to IM someone sitting at their desktop 3,000 miles away from you, Skype gives everyone a central way to stay in touch and gets answer those on-the-fly questions that could otherwise slow the process.
7. Foodspotting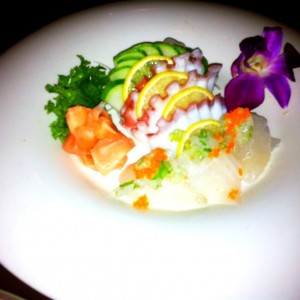 Okay. There are a lot of great apps out there to help you find a restaurant in a strange new town and I have them all on my phone – Google Places, Yelp, UrbanSpoon, they're all there. I'm including Foodspotting here simply because the visual nature of the app really drives me crazy (in a good way). Review information is great for people who trust what other people have to say. I'm not really that person. Personally, I want to see what the food looks like. I don't care if you're foodie or if you're not a foodie, being able to see how nomtastic that baby octopus looks is always going to get me in your restaurant. The only problem with this app is that it seems to only be supremely valuable when you're in a major city (like, for example, San Jose). Using it since I've been back in Troy has been pretty disappointing. And by "disappointing", I mean "I'm starving".
If you don't live in one of those "hip" cities, I'd recommend sticking with Google Places or Yelp. I've actually been really happy with the Google Places app here in Troy. Or maybe that's just the Google implant that came with my Google phone talking.
That's my list for indispensable travel apps for business. Which are you most loyal to?
Or better yet – what's a good expense app?  I have yet to find one I don't want to kick in the teeth.