Rhea Drysdale
Chief Executive Officer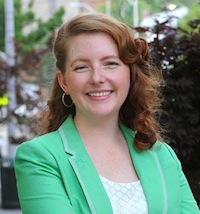 Rhea Drysdale is Chief Executive Officer of Outspoken Media, Inc. Since 2004 Rhea has grown her understanding of on-page optimization, online reputation management and social media with both in-house and agency positions.
Rhea loves working with clients. She enjoys collaborating with executives, marketing managers, programmers, designers and of course other SEO's about industry best practices and when to break the rules. She doesn't believe in hats, just running an honest and ethical business, which was the founding principle behind Outspoken Media, Inc.
Rhea speaks on online reputation management, search engine optimization and link development at conferences like Search Marketing Expo, PubCon, Web 2.0 Expo, SEMNE, and Social Media Breakfast as well as private, corporate presentations. In the past, Rhea blogged for Search Engine Journal and Bruce Clay and was featured in the SEO Bible and has been featured as an expert online reputation management consultant by the Wall Street Journal.
When Rhea is not battling trademark registrations or trying trying to save the world one chimpanzee at a time, she resides in Troy, NY with her husband.
Notable Achievements
Albany Business Review 40 Under 40
CAPITAL Magazine Sept/Oct 2013: Honored as a Talented Young Entrepreneur and Business Leader
Board Member, Vanderheyden Hall
Organizer, Social Media Breakfast Tech Valley
Mentor, Startup Weekend Tech Valley
Session Coordinator, SMX East
Speaker, RPI Women's Mentor Program and the Society of Women Engineers
Speaker, Columbia University Graduate School of Journalism
Speaker, NYU Graduate Program
Speaker, SUNY Albany
Speaker, Albany Ad Club
Speaker, New York Capital Region American Marketing Association (NYCRAMA)
Speaker, TechConnex
Speaker, Search Marketing Expo (SMX) East, West & Advanced
Speaker, Pubcon Vegas & Pubcon South
Speaker, MozCon
Speaker, Affiliate Summit East
Speaker, SearchFest
Speaker, SearchLove NYC
Speaker, LinkLove Boston
Speaker, Blog World Expo
Speaker, Search Engine Strategies
Speaker, SEOmoz Meetup
Speaker, Internet Marketing Conference, Toronto
Speaker, BlueGlass FL
Speaker, Web 2.0 Expo
Speaker, Vermont Marketing Summit
Speaker, Bend WebCAM Conference
Speaker, Social Media Breakfast Tech Valley
Speaker, GenNEXT – Albany-Colonie Regional Chamber of Commerce
Speaker, Search Engine Marketing New England (SEMNE)
Speaker, Annual Conference for Catalog and Multichannel Merchants (ACCM)
Speaker, Scary SEO
Speaker, IM Spring Break
Course Contributor, MarketingProfs University
Contributor, SEOmoz's Whiteboard Friday
Contributor, Search Engine Journal
Contributor, SEO Bible
Featured Guest, Women's Radio
Featured Guest, Blog Talk Radio, Ecom Phenom
Featured Guest, Webmasterradio.fm, SEO 101 and Webcology
Member, Women in Technology International (WITI)
Guest Author, CNN Technology
Recent blog posts
[catlist tags="rhea-drysdale" numberposts=5]