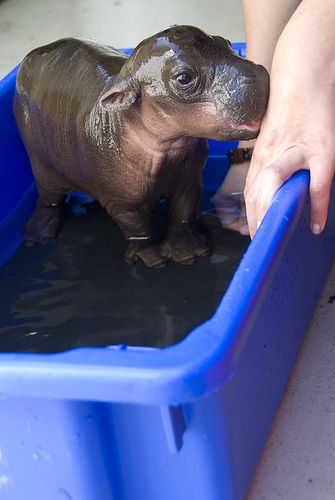 Happy Weekend!  It's been a fun week here on the blog. We tracked Outspoken's summer plans, chatted about blogger hypocrites, how to get social ROI from conferences, and then ended it all up with a great debate on Twitter snobs.  You guys helped create some discussions and I thank for it. Also, most of you seem to think I'm not a snob. Huzzah!
To make things even more fun – it's Saturday! And it is absolutely GORGEOUS here in Troy, NY today. That means as much as I love you, I'm about to go run around in the grass and pick some flowers. But before I do that, here are the links that caught my eye this week.  It's a little light due to lots of travel, layovers and canceled flights, so I'm hoping you'll help me fill in the blanks.   For your effort, I offer up this baby hippo. Baby hippo!
On to the links!
And that sums up my good finds. Whatcha holding on to, Internet?