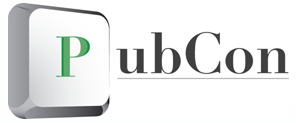 Helllooooo, Vegas! OMG, are you even ready for this mess? I'm cracking my wrists in preparation.  We'll be here all week, tackling 18 sessions over the next three days. If you want the good, bad and the ugly on everything that is happening at PubCon Vegas 2010, then I suggest you stay RIGHT here.  In fact, you may want to subscribe to the Outspoken Media blog. You won't be sorry and, I mean, why risk missing something that can take your site to the next level, right?
I'm sitting far off to right the side of the room because I got chatty and didn't claim my usual front row seat 90 minutes before the keynote started. Don't worry, I won't let it throw me off my game.  Have a drink in your hand? If not, get one.  We're kicking off with a keynote from David Pogue of the New York Times.  Let's do this.
Brett starts things saying he grew up on a small farm in Iowa, Aw! This family was a big fan of watching the news and reading the newspapers. Farmers watch weather like a hawk because they live and die by it. He thought this was normal behavior. It wasn't until he was in high school that he discovered not everyone knew current events like he did. He became a news junkie. He reads news 2-3 hours a day.  He announces David Pogue.
David is at the mic but has no voice. He woke up with laryngitis and says, "it couldn't just be a rash!".  Hee. He's going to talk about the mega-trends disrupting online tech.  No one is talking about the PC anymore, they're talking about app phones like the Android, Blackberry, iPhone, etc.  He hears people say that app phones are a cross between a laptop and a cell phone. He disagrees, they have tons of options laptops don't have like touch screens, censors, wireless, camera (still and video), GPS, etc.  It lets developers use these devices in crazy new ways.
He talks about a bunch of different apps that are doing cool things. He mentions Ocarina, which turns your iPhone into a flute [check these YouTube videos].  The guy who started it became a millionaire in six months.  You can also hear people in other countries playing it, which I have to admit, is pretty cool. David says if everyone had this app, there would be no more wars. He's ultra witty. I'm sitting here giggling and you people are totally missing it.  Now he's showing Barack Obama in auto-tune and the entire audience is in hysterics.  Who needs coffee when you've got this guy?
The next big wave is augmented reality – when you superimpose graphics onto your screen. He mentions TwittARound– you point it at the buildings around you and it shows you whose tweeting from that room. That's basically my biggest fear come to life. Can you imagine if people could FIND me on the Twitter?
Each phone has its own app store and platform. It's the next PC.  We are getting closer and closer to free phone calls forever. He would not like to be a phone company executive. If you think about it, what the world really wants is free calls from a cell phone to a phone number. We're dancing all around this holy grail. Skype gives you free calls, but not to phone numbers for free.  Or you can do Line2 and for ten dollars a month make unlimited phone calls to a phone number.
People are going to make fun of us one day for talking about our Internet hot spots. Wireless will be everywhere.  He talks about Verizon MIFIs. It's a battery-operated hotspot that turns you into a wifi bubble.   It freaks people out who don't understand how you're online.  For what it's worth, I have a Verizon MIFI and I haven't found it that reliable.  There are amazing things that happen when you have constant contact to wifi.  IF you get an iTouch + Line2 + a Mifi = you have a cheaper iPhone.
The whole Web 2.0 explosion is the difference between the owners of a site creating the material and the audience providing the material.   He talks about Mark Zuckerburg and how ironic it is that the "King" of social networking is, himself, socially retarded.   Newspapers used to get 40 percent of its ad revenue from classifieds. Now it gets zero. He says, thank you, Craigslist.   He mentions Wikipedia, a site where any idiot can say anything about anything. Who ever thought that would exist?  He talks about the founders of YouTube and how they sold to Google for 1.7 billion after only a year of existence.  He says it makes him want to throw up. Heh.
He talks about some cool sites popping up:
DoMyStuff.com. You list the grunt work you want done and then people bid see who can do it for the least money. He loves technology.
Prosper.com – you  look over business plans and make micro-loans to people. So instead of them paying all that interest on their credit card, they pay you 12 percent.
GoLoco – car-pooling database. You say where you're going and it hooks you up.
E-Petitions.net – anyone can create a petition about anything. That's not a recipe for disaster.
Who Is Sick – You click off your symptoms and see who is sick in your neighborhood.  David slips and says he brings his daughter to the veterinarian. He claims he meant pediatrician but I'm not buying it.
Things aren't dying, but they are splintering.  It has to be real-time.
Privacy: Nobody Cares. It's not nearly important to today's generation as it was to the lasts. There's an ego component to this – how many friends do you have, how many followers.  Speed + Ego + No Privacy = Twitter.  Twitter is great for crowd-sourcing if you have a lot of followers. He asked his Twitter followers to answer some questions for him. Here were there responses.
The subject line of an email you don't want to read
To former sexual partners, as required by law
Invent a Chinese proverb that sounds authentic
A pig with a cold still makes good bacon.
The pit is always smaller than the plum.
It is dangerous to leap a chasm in two bounds.
Make up a prequel for a famous movie
Snakes in the Terminal
There goes Private Ryan…I hope he'll be okay
We're running low on Mohicans.
[The entire audience is holding their bellies they're laughing so hard. I hope you are, too.]
Staying Sane
Each new online wave is as huge time/money drain
They're coming thicker and faster
Nobody can adopt them all
We end things with David taking to the keyboard to sing us a song. If this is how PubCon is starting, I can't wait to see how the rest of it goes down. Stay tuned, friends. :)