Category: Announcements
We're always up to something. It's just how we roll. And this is the corner of the blog that will keep you up-to-date on what we're doing or celebrating the moment we're doing or celebrating it. It's like FourSquare. But more awesome!
What you'll find here is behind-the-scenes Outspoken Media awesomeness. From the company birthdays to big milestones to new hires –we invite you to experience it all with us, as part of our family. We're so proud of what Outspoken Media has accomplished, and we can't wait to share with you all the great, new things coming down the pipeline.
If you want to share in our excitement, we encourage you to keep an eye on Outspoken's Announcement section. It's where we'll go first with all our big news and triumphs. Because, after all, if it wasn't for people like you, we wouldn't have been able to do any of the cool stuff we've been doing. Great moments are born from great opportunities. That's what you have here. And we have you to thank for it.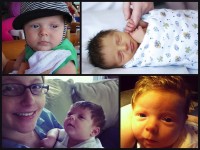 by Rhea Drysdale on 08/27/2013 • 20 Comments | Announcements


Hi there! Long time, no blog. It's been months since you heard from Outspoken Media and for that I apologize, but not profusely because sometimes there are moments when you have to take a step back or in our case, a step forward. While we were away from the blog, we were very much present …Read More
---
---
---
---
---
---
---
---
---
---